Hello! I am a newer chicken owner and I had purchased my chicks from
Tractor Supply
. They were unable to tell me for sure what breed they were because the bin I got them from had a bunch of different breeds all thrown together because they were on discount for getting too old to be in the store. Anyway, I got 5 leghorn pullets, 4 Barred Plymouth Rocks, 4 Black Australorps (I think), and 6 of what I believe are Rhode Island Reds. All of my red chicks have feathered out but one stands out from the rest.....She has no tail. I have checked and checked for any sign of damage because I thought one of the Leghorns had pulled out her feathers. But there is absolutely no sign of any damage....it looks like her rump is structured differently, maybe she is actually a rumpless? She is a silly looking thing running around but quite adorable. I was just curious on any opinions on why this might be. Also... do you think I identified them correctly as Rhode Island Reds? Look down below the pictures of the rumpless pullet to see more pictures of some of the others.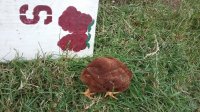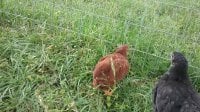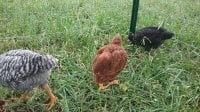 She is on the right in both pictures.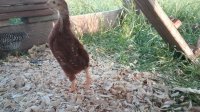 This is a picture of her a bit younger.
Here are some pictures of the others:
The cockerel and one of the pullets
one of the pullets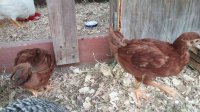 two of the other pullets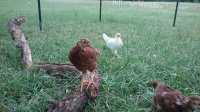 Calypso, one of the pullets
Hitler, the cockerel
Do they just have some darker markings like this as the are growing up and will eventually molt them out for the more plain red feathers of the RIR?