This guy (I'm assuming it's a roo) is huge compared to his sibling chicks. He was born Feb.13. I only had 4 BOs make it out of the shipment and 9 BAs.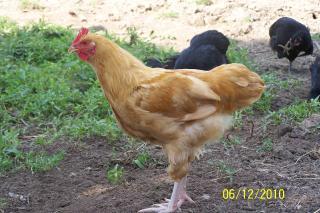 Look at the length of his legs!
Do you think he's not buff orp and has some other breed mixed in? All of the hens around him were born same time. He's starting to get spur nubbies, hasn't crowed yet and loves to pinch me from behind.
We've had several discussions already about his behaviour.
I'm just curious about his rapid growth, he's larger than my year old hens and closing in on my year old rooster.