Hello BYC! I've got a few questions on chickens that have stumped me (not hard to do

) I got this group of chickens at the beginning of May, so they are about 23 weeks/6 months old. The roosters are mating my older hens (my broody just hatched out 3 fluffy nuggets!!) but the ladies aren't laying yet and I'm not expecting much until the spring anyways. Out of 10 chicks, We've got 3 confirmed roos and one cochin that is giving me trouble so we'll start with him/her:
1. The comb and waddles grew out extremely fast, long before any of the others, and then just stopped. They've been the same size and color for probably two months now. Docile temperament for the most part, no crowing or other roo behavior. Keeps to itself and none of the other roos bother it (either fighting or attempted* mating). I'm super unfamiliar with cochins anyways. Are those saddle feathers? Also, good example of a blue? I dunno.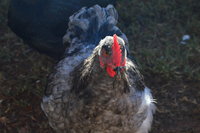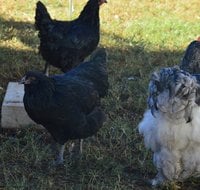 2. Logan, the Ameraucana rooster. He's beautiful and my boyfriend loves him, but isn't he just a leaky blue? Not blue wheaton, right? I don't even think the lady we got this batch from even had wheaton genetics.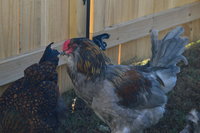 3. What even is this chicken? He came from the same batch as Logan and my other 3 perfect blue/black Ameraucana hens but he's just awkward to look at (these pictures actually do him justice...). We thought he was just a super tall gangly hen (appropriately named Stilts) up until about 3 weeks ago when the saddle feathers started showing. And he started crowing last week (omg best thing ever

). He has to go either way, I'm just curious what happened to make this poor guy look so bad? I guess he'd be considered an EE? He was supposed to be Ameraucana.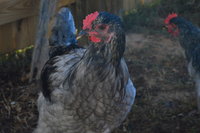 And I just want to show off my other gorgeous birds here