***Please see later posts for pictures and updates on Ivory's progress!***
___________________________________________________________
Ivory's Major Milestones:
*UPDATE: Day 528: Ivory's a father!!! (page 27)*
-7/11/11
*UPDATE: Ivory is now 365 days old (1 year)!!!

*
-1/29/11
(PLEASE NOTE: The typing below is written with "she" when referring to Ivory. At the time, 'he' was believed to be a 'she', but as of now 'he' is NOT a 'she'!

It would take a long time to go through all the posts and correct the "she's" and make them "he's", so just keep that in mind.

Thanks!)
~~~~~~~~~~~~~~~~~~~~~~~~~~~~~~~~~
Ivory, my Splash Cochin/black Ameraucauna chick, was born on January 29th, 2010, and is now 42 days old (6 weeks exactly). She is still no bigger than the palm of my hand and her full wing feathers aren't even in yet. Almost, but there's still quite a bit of downy feathers on her wings still. Everywhere except for for wings, a tiny clump of fluffy feathers near her legs, and a couple feathers on her chest (that are just now starting to fan out) is downy feathers. She doesn't even have many pin/blood feathers coming in at all, either. I would think by now she would have way more feathers or at least those pointy pin feathers (just the shafts) by now!

She is always eating, she has fresh water available, and her light is always on in her brooder box, except at night, when I shut it off until early in the morning so she can get some sleep.
Here are some pictures I took today: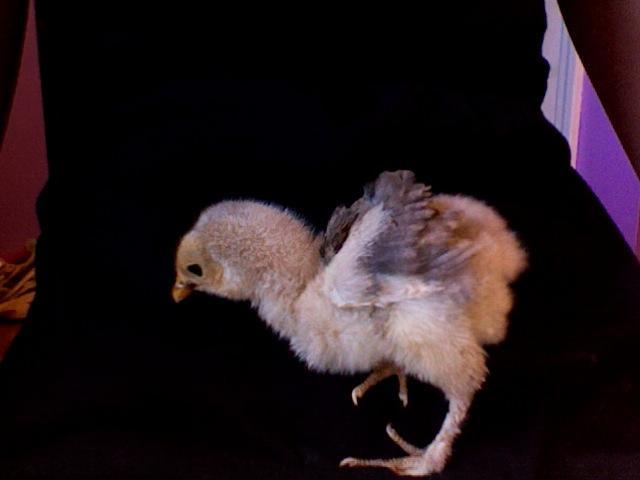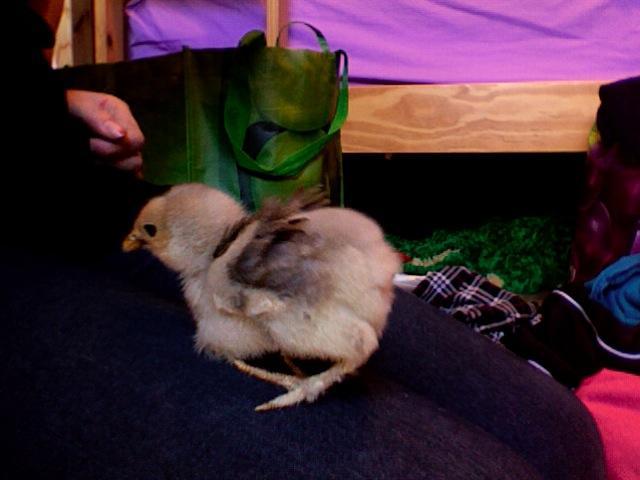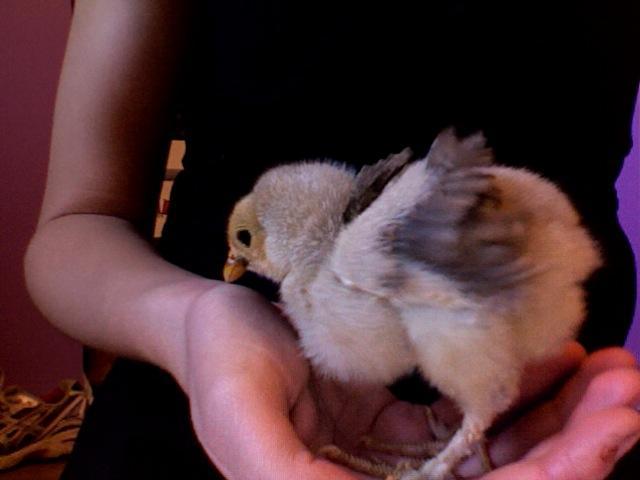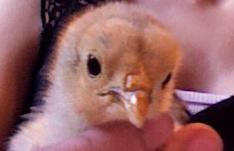 Any thoughts? Is this normal? Is she just an slower developer or something? She acts normal. She's always active (except when she's been running around in my bedroom and is a little tired...then she takes a nap in her box for a little while.

)
Thanks!
_________________________
EDITED TO ADD: Ivory eats just plain ground corn for food. We've raised all of our chickens on this when they were young, rather than spending money on medicated feed, and have never had any problems. All we do is take cracked corn (that we buy at the feed store), put it in a coffee bean grinder/mixer, and then mix it until it's almost like powder. But I've worried that it isn't giving them enough of some vitamin, like grower feed would have in it. Of course, once they get older, we move them to layer pellets, but could feeding her just the ground cracked corn be causing her slow development? She eats a lot and I know she gets plenty to eat, but is it enough in vitamins and other stuff for her to grow properly? If not, I will definitely go and buy some chick grower as soon as I can.


Also, this brings up another question. She's been eating the ground cracked corn ever since she hatched, and could switching her to grower mash cause problems?

Thanks!
____________
Please feel free to check back on Ivory's progress! I try to post updates and pictures almost everyday.

Last edited: