I was asked to look at Green Fire farms for a friend who wants to get Orpingtons.
Well I don;t know that breed as we don't have them. I was a bit shocked to find on their Orpington page a pic of a bird that looks very like my Bertha!
My Bertha is supposed to be a Red Speckled Sussex. ?????????
Here she is :
Here is her Roo boy Chick Who I think looks very like he is a Red Sussex Roo boy????
Here is the Green fire Farm Page with the Orp pic?
http://greenfirefarms.com/store/category/chickens/orpingtons/
Please tell me my Bertha is a Red Speckled Sussex -???????????????????????????? I don't want an Orpington!!!!!!!!!!!!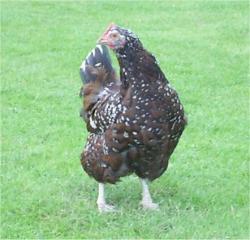 Oesdog
Last edited: