Feb 27, 2008
8,650
118
303
We are now taking reservations for our Holiday fragrances of our Dirty Chick Goat's Milk Soaps! You pick the shipping date! Holiday fragrances will start shipping November 1, 2010. Each soap is $3.50.
BYC SPECIAL! First 10 pre-paid orders placed by October 31, 2010 will receive FREE Priority Shipping! We have *ONE* more order remaining for the free shipping offer. Please hit the BuyItNow button to take advantage of this offer, then PM me with the # of soaps and fragrances you would like.
These are large, 4 ounce soaps packaged in a clear cellophane pouch which locks in the fragrance and moisturizing qualities of the goat's milk. Great for gifts for your co-workers, your kid's teachers, or just for yourself! Our soaps are practical enough to use and still look pretty sitting by the sink or in the shower. We use quality ingredients including coconut oil, palm oil, vitamin E, sodium hydroxide (lye), uncut and skin safe fragrance/essential oils, and of course goat's milk. Homemade goat's milk soaps are so much better for your skin than commercially made soaps.
Detailed descriptions of fragrances can be viewed at our website.
Limited Edition Holiday Fragrances:
Gingerbread: wonderful fragrance of fresh baked gingerbread cookies straight out of the oven at Grandma's house.
Pumpkin Pie: Warm, homey traditional pumpkin pie fragrance with spices (nutmeg, clove, cinnamon).
Jack Frost: fragrances of creamy vanilla and fresh peppermint.
Other Fall and Holiday-friendly fragrances:
Apple Cinnamon
Amish Quilt
Maple Pecan
Brown Sugar Fig (new)
Others also available:
Unscented, Dye-Free
Soothing Oatmeal, Milk & Honey (Our Best Seller)
Exfoliating Sweet Pea
Relaxing Lavender
Refreshing Mint
Classy Lemon
Breezy Meadow
Day at the Beach
Southern Gent
Southern Belle
Midsummer Night
Dusty Rose (new)
Baby Powder (new)
HOW TO ORDER: PM me with the amount and fragrance(s) you would like to pre-order along with your requested ship date. Orders will be shipped in order of requested ship date.
PAYMENT: I accept Paypal, USPS Money Order, or Personal Check. You will get a PM and/or Email to confirm your order. You can also place an order via our website with PayPal checkout.
SHIPPING: FREE Priority Shipping!
Thank you for your support of our farm!
Have you purchased from us in the past and want to leave feedback? You can do so on the old feedback system on BYC and/or on our feedback page on our website. Thank you for your business!
Example of soap & packaging: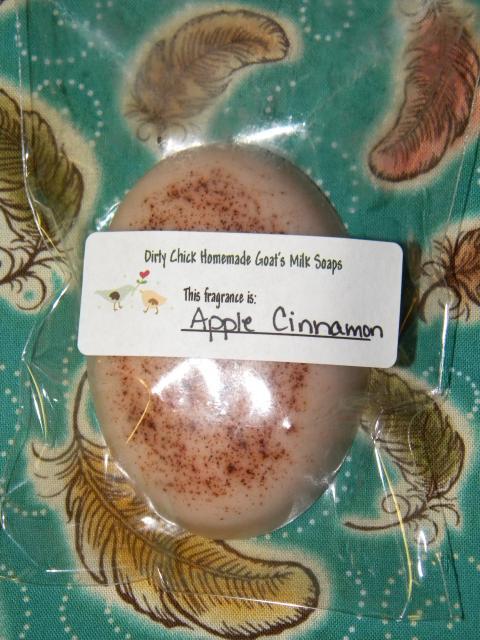 Disclaimer:
Please note that we make our soaps as a hobby. They are produced in our kitchen. If you have allergies to any ingredient in the soap, nuts, spices, wheat products, etc. please be aware that the soaps may contain ingredients you may be allergic to. If so, please refrain from purchasing our soaps to prevent any undesired side effects to you. With that said, goat's milk is a very mild soap that may people with skin allergies use instead of store-bought soaps. We have all good reports from our soaps from our customers thus far and many return to purchase additional bars. The choice is yours.

Last edited: