I need to rehome my ducks, unfortunately. The Black East Indies pair ("Apollo" and "Calliope") were bred here in Mass. by Shawn Streeter and were hatched in early spring 2009. He is a major presence at shows around here, and this pair are some of the best that he didn't keep for himself that year!
The call ducks ("Earl Grey", "Cappuccino", and "Mocha") are this year's babies and were bred in the region as well. I don't have the name of their breeder but can track it down if you'd like it. I was told they were SQ when I bought them and recently have had input from other BYCers that the type on the lavenders is not good enough to show. The chocolate is a bit better, but I need to get some better pics of her. If I were keeping them I might see if I could get some additional in-person input to see what's what, so that may be an option for you. Even if you don't show them, they are beautiful!
SQ BEI pair - $50
Lavender call duck pair - $40
SQ? Chocolate call hen - $20 (would love for her to go with the lavender pair if possible)
They are tame enough to come and eat treats out of your hand, though they really don't like being caught! The call ducks LOVE playing in their water tub... I feel like they really deserve a pond or bigger pool then I can offer here in the city. The BEI pair are a bit calmer and are very sweet. All get along very well with my chickens and dog.

No shipping - you're welcome to pick them up here or I could meet up somewhere within an hour or two of Boston, MA. I'm happy to come to any swaps in NH or MA in the next few weeks to get them to you as well. Please let me know if you have any questions!
More pics:
Earl, Cappuccino, and Mocha (pic taken in June)
Cappuccino and Earl
Close up of Earl (also from June)
And of Mocha
Apollo and Calliope (pic from 7 Feb 2010)
Calliope (pic taken in June of 2010)
The BEI pair again (pics from 23 Jan 2010)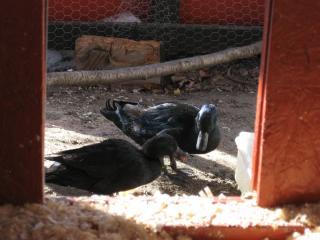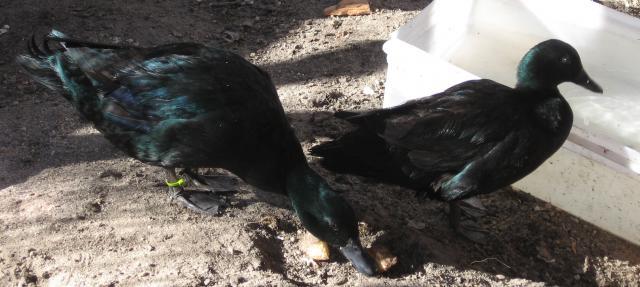 Last edited: