Seriously Downsizing (NOT)
11 Years
My hens are laying well so I'm offering these pure breed hatching eggs for $1 for all hatching eggs except for cuckoo marans which are $2 per egg and $12 for shipping USPS priority, and I always send plenty extra eggs.
Cuckoo Marans (I have 2 blue cuckoo hens along with mostly regular, darker cuckoo hens and 2 feather legged roos) My feather legged cuckoos come from Kelly Cratty lines. They're laying over a dozen eggs a day! $2 per egg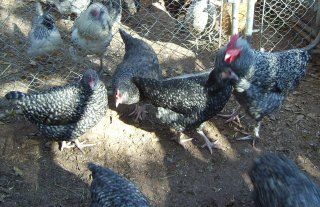 Jersey Giants ~ I have 2 blue roosters with 5 black hens and a dozen blue hens. Most of the chicks are now hatching blue! They're laying over a dozen eggs a day!
Turken ~ I have a buff rooster and a black tail white rooster with 3 white hens and a dozen buff hens. I also have a pair of barred or cuckoo turkens that I could add their egg in. They're laying over a dozen eggs a day!
I also have Apenzeller Spitzhauben, Brabanter, Silkie, Egyptian Fayoumi listed on another thread. You can mix & match or just buy an assortment. I only sell the best looking and freshest eggs for hatching and fertility is excellent in all breeds. $1 per egg
Oh, and I do have turkey eggs for sale too. Bourbon Red, Narragansett, Royal Palm and Blue Slate. They are $4 each.
My paypal is
[email protected]
Last edited: