I bought a couple chickens last night and this morning noticed a lump on my new Turken's neck. She is 1 year old and i'm not sure how long she has had it there. anyways I didn't mean to buy my chickens at night but I got lost and it took me forever to get there and of course after driving 2 hours I was going to buy a chicken! They all were well kept, and all of them were beautiful last night. Could it have been an injury that occured overnight with my other chickens or is it a tumor? abscess? I'm not sure what ailments normally fall on chickens. The lump is located at the base of her neck over her right breast and is about the size of a golf ball. All of m chickens are freely fed layer pellets, oyster shell, vegetable scraps and occasionally some scratch. I use Diamaceous earth on there straw which they use for nesting and bedding on the coop floor, and I sprinkle a little in there dusting holes to keep them clean. The floor was cleaned on Sunday. They free range 2 days a week through my backyard and courtyard and have access to a very nice sized run the rest of the time. Oh and last I have 7 chickens that all are looking very healthy and lay great eggs! we'll still have to see if the Turken is Laying eggs.
Here is a picture of her, you can kind of see the lump.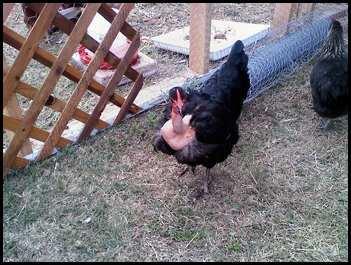 Any Thoughts? I really don't want to take her back, it would be more hassle than its worth.