The Omelet Ranch
10 Years
Sep 18, 2009
5,357
46
271
Help, I'm really worried about my girl....She hasn't left the nest for 5 1/2 days now, I put a little bowl of water and she gulped it down. I'm so worried as none of her feed has been touched
I just took her off the nest...i know i know you all said to leave her alone, but I was watching her and she was breathing a bit through her mouth. She can't walk!!! I set her next to the eggs and she's made no attempt to get back on them. She's missing all her feathers on her underside...is that normal.
I put a little bowl of grapes and she started gobbling them, then I gave her some cracked sunflower and she just went crazy eating. She's a bit more attentive and she's looking around. If she doesn't get up, what should I do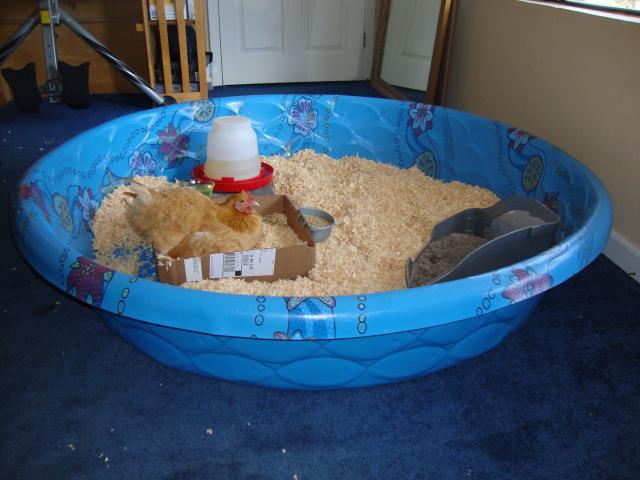 Mabel went broody a few days ago, she is my dearest girl. BIG GIRL wants to be a momma, just so happens I wanted some chicks but DH wasn't thrilled, Mabel helped with the decision and I told him that we have to 'help" her out...all is good except I don't have a clue about what I'm doing. I have so many questions...I've read every broody post on BYC...
Worked all yesterday finding eggs for my broody Mabel and now I have the following arriving on thursday
3 sicilian buttercup eggs
3 barnevelders eggs
3 Silver laced wyandotte eggs
3 speckled sussex eggs
3 white orpingtons
some will probably break so it will end up more like 12 under her, she's a very big girl
I'm worried I'm not doing this right. I took Mabel out of the nest box in the coop and put her in a xlarge dog crate inside the covered run. she has a cardboard nest box where she is sitting on the ceramic eggs I gave her. she has food and water in there. I covered her cage half way because it will get to about 45 degrees here last night and may be chilly rain outside. I'm so worried I'm screwing up, will this be ok for her. The other girls were running around the cage earlier, so I faced her outside but I'm sure they bothered her. Should I bring her in the garage...help if you have a few moments to spare for a rookie in this area.
I just uncovered her, she's still on her eggs.
1. Is the dog kennel big enough for her?
2. When the eggs arrive, I heard I need to let them set? Is that true if they are going under Mabel and not in an incubator?
3. Do I take her out of the cardboard nest box I made take the ceramic eggs out and then put all 12 under her? Is this after sun down?
4. Will she continue to lay eggs daily? If so should I collect them daily? She's never had a rooster so they will be infertile
5. I have the door shut in the kennel...is that wise to keep the other girls out of there?
6. She has food and water in the kennel, should I offer her some treats or scrambled eggs etc?
7. Should I be covering her at night?
Last edited: