I'm not all fluff
12 Years
May 29th (sun) Central ME bird Fanciers Show & Swap 9:00am or earlier Windsor Fairgrounds, Windsor, ME
the show is open to the public and admission is free to attend.
you must be a member of the club to sell or have a bird entered in the show, set up fee is $10.
here is one of the raffle items
custom carved emu egg with a picture from the catalog cover on one side and a silkie on the other. it will be in a glass lantern showcase.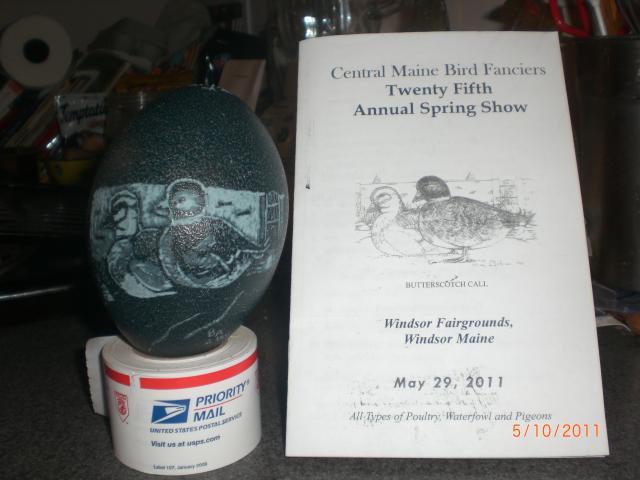 there will be the poultry show but also poultry sales, a raffle table and a live auction of misc items (which could be anything from birds, eggs, household items) at the end of the show.
there is also a goat show going on too.
hope to see you all there!!
rules for the show are posted online (it's a pdf file, takes a minute to load)
http://www.centralmainebirdfanciers.org/NewsLetter/CMBF Spring Show 2011 rules.pdf
as well as the entry form which must be postmarked by may 23rd
http://www.centralmainebirdfanciers.org/NewsLetter/CBMF Spring Show 2011 Entry.pdf
Last edited: