Okay okay, I have posted about coops before but as a newbie, keep having questions!
Here's the scoop: my 5-week-old chickies definitely need to be moved ASAP into their coop. As a matter of fact, I probably need to build a bigger coop as well, but the point is to move them from their brooder NOW and buy myself some time to work on a bigger coop. Here is a picture of what I have: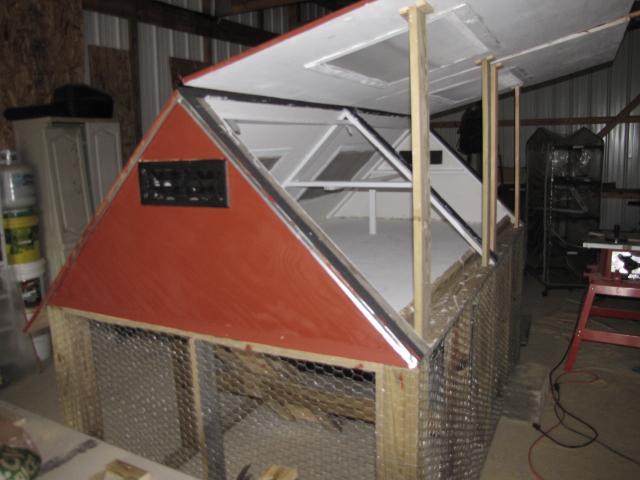 It's 4' x 8', with the "double level" you see. Now, do keep in mind that of my 15 chicks, all but whatever hens (and maybe ONE roo) I get will be slaughtered around 4 months, and only 10 of the birds are a straight-run because the 5 White Rocks are all males.
Here is my question: the garage that this coop is currently in, has a pet door opening into a 20' x 30' chainlink pen that is perfect for the chickens (hardware cloth along the entire bottom and dug in 6", some shade, one side is the garage wall for weather protection). As a band-aid solution for the time being, can I just leave the coop INSIDE the garage, and give the chickens free access to the pen outdoors? See, I could do that in one day. Otherwise I still need to make sure the coop is weathertight, figure out where to stick it outside, and probably put some kind of cover overhead in order to open some of it's windows for added ventilation (did not know when I built it that there wasn't enough ventilation provided).
Now, if I could keep it in the garage, I could leave some/all of their windows open and they would have lots of ventilation without drafts. I could also have a run all ready made for them, the garage has water too which makes care-taking easier. The downside is, the garage does not have any windows and the lights suck, so the coop would be stuck in dim/dark all the time, and I would have to make sure to air it out by opening the bay door every so often. The bay it's in is about 15' by 30'.
So do you think that would be okay for the chickens, at least for a couple months or maybe through the winter? and if so, should I add a good light on a timer over the coop, or is that overkill? and would it be okay for ventilation, even if it's actually inside a garage?
Thanks so much for helping me out... those chickies are just growing too fast for me to keep up with!