Good morning to all. I have new additions to my little farm. I was bought a goat who kidded in January, so very cute and great learning experience. The mama rejected her twins, so a friend of mine helped bottle feed one of them. She also gave me a cutie of a pot belly pig about 6 months old, possibly bred. That was just over 7 weeks ago.
Since then Miss Piggy and I have bonded, shes so sweet. Also so very pregnant. She started showing a noticeable udder, milk line, also teats Feb 10th or so. Now what a difference poor girl. She can barely walk, she doesnt stand up for very long. Her teats are a lot smaller then I am used to milking so I cant extract any fluids from her. I have felt the babies move due to her always wanting lovens. If anyone could help her and I out, My nervousness and her poor uncomfortable self by tellin me if she is actually due sooner or later.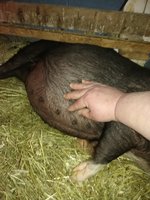 This is when i first seen the milk line and teats 2/23/18
This was a couple of days ago 3/10/18
This was last night, It is very hard to get picks of her backside. I wouldnt want people taking these pics of me either. The camera isnt the best, but she had hay stuck to her, so maybe discharge?
Any help would be greatly appreceated.
Oh I almost forgot, The last few days her apitite has been on and off. She has her favorites, but eats about half of what she used to. Thank you guys for any help!