I'm new to chicken genetics in general, don't quite understand how everything works yet (I'm learning...), but my rooster's plumage has been nagging at me for a while now.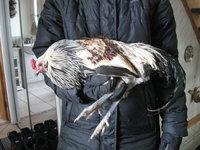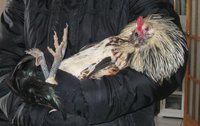 I'm pretty sure that, from looking at the standard plumage of the breed, he's got at least one Silver Ameraucana parent (be it mom or dad), but the presence of brown on the feathers and his white belly is leaving me unsure of the other one. Wheaten and brown-red Ameraucanas don't have white bellies, so how on earth did he get it? The only thing I can think of is a white Ameraucana, but the red feathers are too present, plus the rooster's neck wouldn't be light columbian unless he had a silver parent in there.
I'm trying to pinpoint my rooster's plumage ancestry to get a possible idea of what his chicks would look like if crossed with my hens... mainly my blue Ameraucana female, and a dark-red brown crossbred hen that's half-white Chanteclerc and half brown hen (or Rhode Island, as she had a dark red plumage).
You guys are more experienced than me at this color-guessing game, what are your thoughts on this?