Covered in Pet Hair & Feathers
10 Years
Sep 22, 2009
15,506
431
358
I made a feed & DE run to my favorite feed store and remembered, this time, to take pictures of the chick sales area. It's so very clever, as it keeps the customers' (and their kids') hands out of the "bins" and now provides nipple waterers 24/7. No more big horse troughs (except for turkey poults right now). Banks of cabinets with pull-out drawers with glass fronts for viewing. Cockerels all on one side of the room and pullets on the other.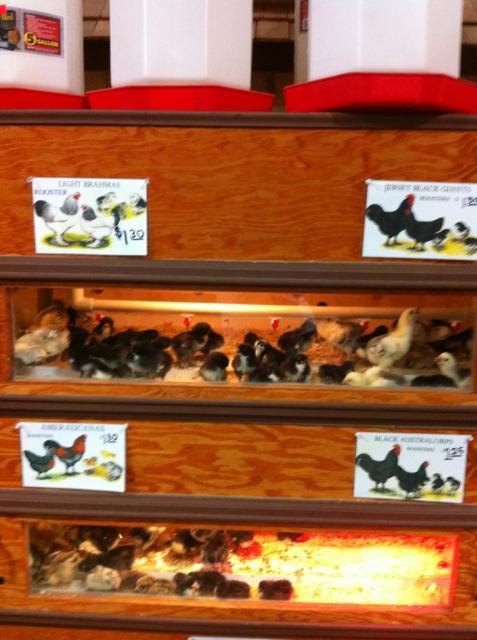 While I was there, an elderly couple was looking at chicks. They only wanted two, but neither really knew what kinds of chicks they wanted except for how they looked. It turned out she had an older hen which had passed, and she wanted a replacement chick and a friend for it. There were three other groups of customers with kids there, also trying to decide on chicks.
Bantam chicks are straight run.
Eavesdropping on the older couple, I felt I could butt in and assist them with some questions to get more information. It turns out her hen had laid bluish-green eggs and had face markings (she referred to it with a Spanish name for little tiger, due to the stripes). It felt good assisting them. They selected an "Amereucana" and Light Brahma pullet.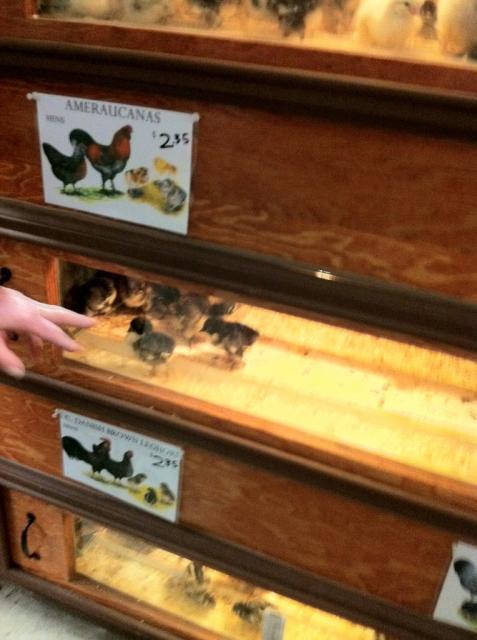 We called someone over to help us get the first chick.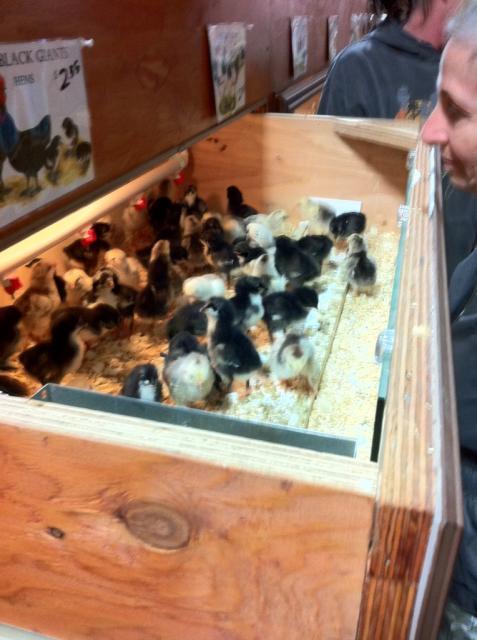 Interesting set-up, doncha think?
And I didn't buy anything but the feed (switching to pellets now) and some DE. Oh, and ask Amy how the Cochin chicks she bought from me were doing. (Fine, feisty, two of the three are probably roos...)