I AM A AUTOMATION ENGINEER FOR A AUTOMATED MACHINE BUILDER SO I JUST HAD TO USE MY SKILLS TO HELP KEEP MY CHICKENS SUPER HAPPY. WE CURRENTLY HAVE 4 LAYING HENS AND 12 - 9 WEEK OLD CHICKS. THIS STARTED AS A HOBBY FOR THE KIDS AND QUICKLY BECAME MY FAVORITE PAST TIME. I FIRST EXPANDED THE OUTSIDE RUN TO 300 SQ FT (150 SQ FT UNDER ROOF AND 150 SQ FT IN THE SUN) THE INSIDE OF THE COOP IS 40 SQ FT 1 1/2 STORY. AFTER THE COOP AND RUN WERE COMPLETE I MOVED INTO THE AUTOMATION SIDE OF THE PROJECT.
THIS FIRST PICTURE IS MY TEMP CONTROLLED BROODER BOX
THIS PICTURE IS THE FEEDER BOX I MADE FOR MY CHICKS IN THE BROODER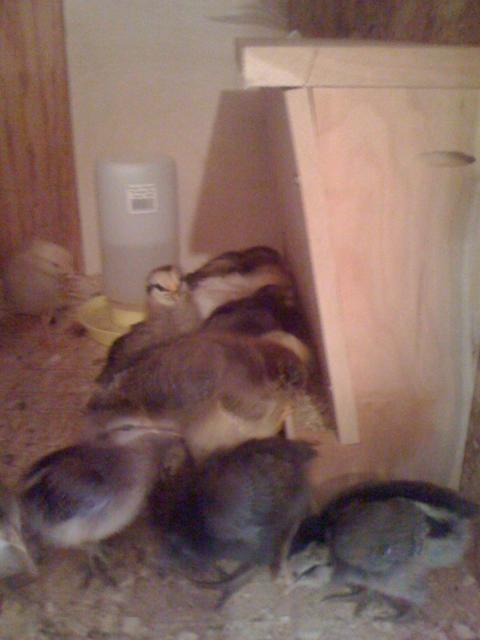 THIS PICTURE IS MY AUTOMATIC PLC CONTROLED FEEDING SYSETM. I USED A SCRAP ELECTRICAL ENCLOSURE AND AUTOMATED A DISPENSING SYSTEM THAT DROPS ABOUT 3/4 CUP OF FEED EVERY HOUR. THE HOPPER HOLDS 100 LBS OF FEED AND WILL LAST ABOUT 3 WEEKS BEFORE REFILLS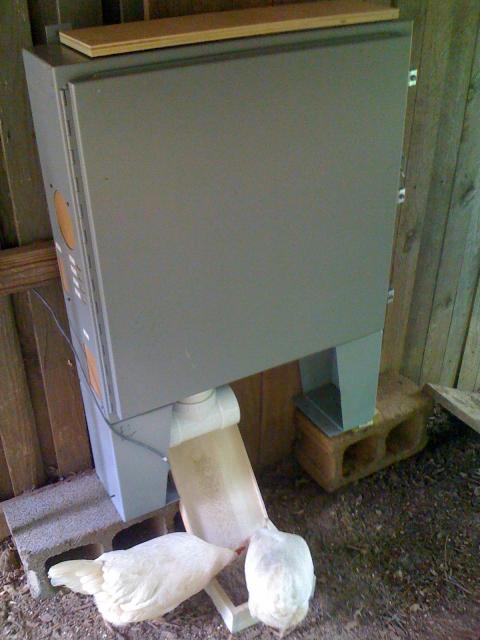 HERE IS A YOUTUBE LINK OF THE FEEDER WORKING. KEEP IN MIND IT IS COMPLETELY AUTOMATIC AND CYCLES EVERY HOUR BETWEEN 6AM AND 8PM
THE NEXT THING I ADDED WAS A AUTOMATIC PLC CONTROLED WATERING SYSTEM THAT TOPS ITSELF OFF EVERY HOUR AND IN THE MIDDLE OF THE NIGHT IT DUMPS AND RINSES TO PROVIDE CLEAN FRESH WATER ALL THE TIME. THIS REALLY MADE MY CHICKS HAPPY. EVERYTIME THEY HEAR THE CONTROL VALVE CLICK ON THEY COME RUNNING FOR FRESH WATER.
HERE IS A YOUTUBE LINK FOR THE WATERING SYSTEM
THE LAST PROJECT WAS THE AUTOMATIC DOOR. I WANTED A WAY TO CONTROL A DOOR FOR PREDATOR CONTROL. THE DOOR IS ALL 12 V DRIVEN AND IS SOLAR CHARGED DURING THE DAY. THE MOTION IS DRIVEN BY A WINDOW MOTOR FROM A SUBARU AND VARIOUS RELAYS AND SWITCHES. FOR THE DAY/NIGHT SENSOR I AM USING A NIGHT WATCHMEN. I HAVE NOT INSTALLED THIS YET BUT I HAVE IT FUNCTIONAL ON THE BENCH
HERE IS A YOUTUBE LINK
HERE IS A PICTURE OF THE DOOR
THANKS FOR LOOKING! PLEASE PROVIDE ME WITH FEEDBACK AND ANY OTHER IDEAS I CAN BUILD.