May 25, 2010
5,584
426
366
I was cruising the Petfinder website last week looking to add a few new ladies to my flock. I stumbled on a picture of a hen locate at the Buffalo NY SCPA. She looked so lonely and depressed. I called about her and Shiela, the lady in charge informed me that she was found in the city living under someones porch. They rescued her. I told them i would think about it and would get back with her. All weekend long I kept thinking of the little red hen. Couldnt get her off my mind. SOOOOOOOOO Monday morning first thing I called to let them know I would make the long 3 1/2 hour trip up there from Ohio to get her. They were happy and informe me that they had rescued another little girl the day before and would I be intereste in her also? Duh....... So, up to Buffalo I went.
When I got to this place, I was amazed! this SPCA has a petting zoo for the local people! They had rescue animals that lived there on their little 'farm'. Everything from horses, miniture horses, goats, geese, chickens, pigs, etc! along with the cats, dogs, lizards, doves, etc. The place was immaculate.
I met up with Shiela and took a look at the two little girls. (I ended up naming them Elly and May (Elly May? from the Clampets????) Elly is the stronger of the two girls. She was found living under a porch in the city and was rescued. Looks to be in good health. Feathers are dull, and she is pale and thin.
I took one look at May and almost started to cry. This tiny, thin, feathers nasty, dirty legged little thing looked up at me with sad eyes. I think she was actually greatful when I picked her up and gave her a big hug and told here she was ok. She has a malformed beak. She seems to be able to eat, drink, etc. just fine though. She had a tether tied around her one leg. Looked like maybe someone had her tied by the leg to something to keep her. (like a lead or something?) She is small, pale but seems to be ok. She was found wandering around the streets of Buffalo loose with the tether tied to her. How could i not take the thing home with me. (and how could anyone keep a chicken tied outside with a tether around her leg?????)
They talked to each other all the way home. They both enjoyed the ride home with me i think. Elly hung her head out of the box and watched as traffic went by. I swear she was smiling. (I think they waved bye to the city too!)After the 300 mile round trip and getting them home, I let them loose in a little area of my coop that I had for them. They are so fragile, thin and small. But so sweet!
This is May.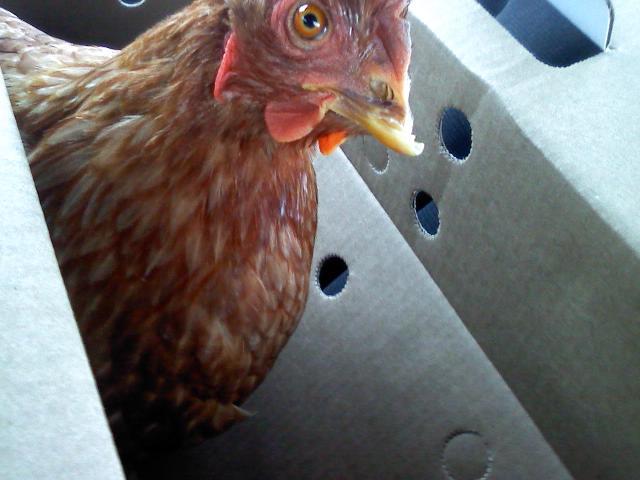 May found the scratch bucket first! ALthough she had NO IDEA what to do with grass and dandilions, she knew the scratch.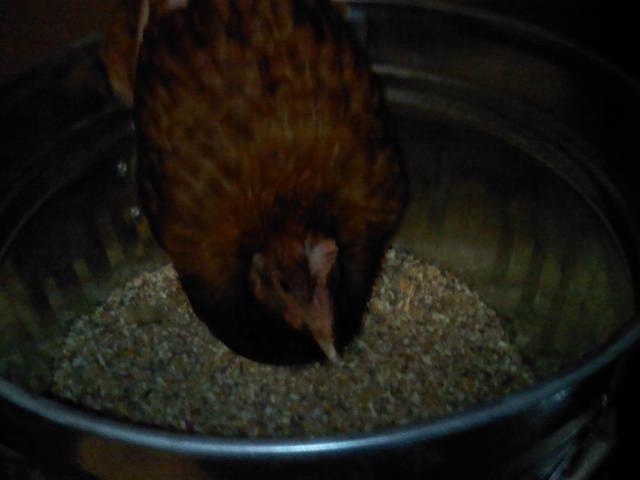 I will have more pictures soon I am sure as they improve in health on my page.
Last edited: