Hi Everyone,
Well it has been just about 2 weeks ( but it feels like years ) and my Jenny is still favoring her leg. I put her in her cage, to keep her from using it so it will heal. She has been confined for 5 days now as suggested.
She has access to everything she needs. BUT she has not laid me an egg since this has happened. Unless she did somewhere in the barn at the beginning. This worries me .... before she hurt her foot/leg she laid me an egg everyday. She is not egg bound. I just started feeding all my birds oyster shell crumble. I have been giving her vitamins in her drinking water. She gets fresh veggie daily. Right now they are getting a lot of fresh corn and carrots. Her comb is still not standing up straight. Yesterday when I opened her cgae door she came darting out. So I picked her up and put her down on the floor of the barn....she was still holding her leg up and hopping. Her personality seems normal not like it was when this first happened she was isolating herself. She is using the perches that have been screwed in. She refused to use them before so I screwed in a perch for her on the outside of her cage. That became her permenant spot.
I just can not imagine what is wrong with her leg??? I have checked her all over, moved it around, checked her feet for bumble foot. I think today I am going to soak her in epsom salt IF this would be okay????
I really need some support here.....I hate to keep her locked in her cage......and she is definitely the bottom of the pecking order so I worry about when she starts to interact with the flock again I have seen other hens pick on her.
This is Jenny's cage. She is on top of the nesting box I know the photo's came out dark she has 2 perches in the cage and she gets on top of her brood box. Something she never did before so go figure she is climbing all over the place. Should I block them off with plywood so she isnt jumping around???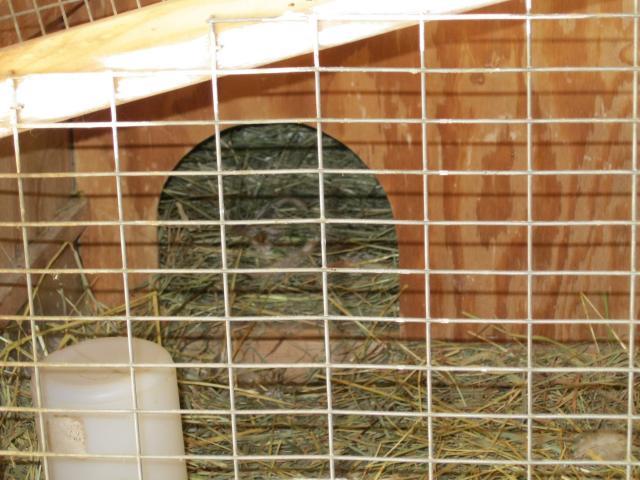 The door to her box, where she does spend a lot of time. I will have to pull the top over to see if she is still laying on her side.
Jenny watching all the other chickens. The perches that you see sticking straight out are on the outside of her cage.
Is this housing appropriate for her healing? What can I try with her for supplements??? Antibiotic???? Etc???? I need advice and support she is my baby and I love her dearly.