FINALLY I AM DONE!! Well, sort of, I still have more work to do inside building them a roost and insulating when the weather gets colder.
The coop is a converted rabbit hutch that the woman I bought it from was using as a pigeon roost; I let it sit in the sun for a week then scrubbed with bleach and soapy water twice. Then, two coats of Kilz and two coats of red paint (the paints were oops & $1 each). Coop is 39" deep by 43" wide, and tall enough for two sets of roosts if I do them at right angles. Only one nesting box, because at this point I only have 4 hens and I will probably need to work on DH if I find I want/need more. The floor is wire, and I left it that way, and I cut off the legs of the hutch because it was too tall with them - it's resting on 2 x 4's right now, which gives clearance from the ground and lets the people door on the inside of the run open as well. It started being all wire, but I cut recycled plywood to fit, painted it, and shimmed it into the sides with nails. I did leave ventilation space on all sides, the roof has an overhang that allows it and will still give them protection.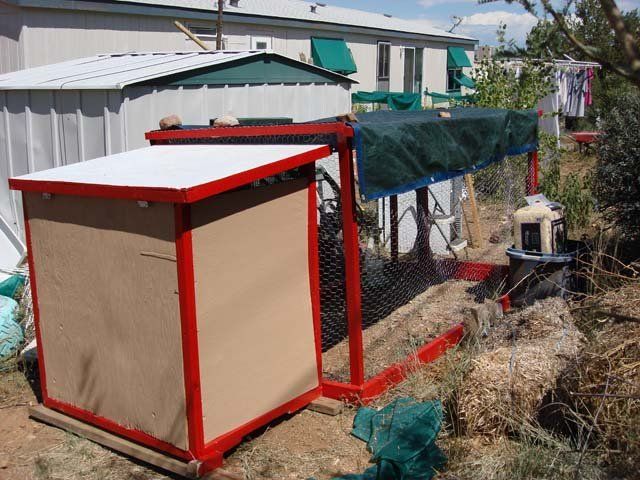 The run gave me fits, I wanted originally to make this portable...which just wasn't going to work no matter how I rigged it...so, I am still going to build a chicken tractor for the days DH and/or I am home, so they can get some better forage, but this will be their 'permanent' home. The base is 2 x 4's, the corner posts, top bars, and the bar where the feeder is hung are all 2 x 2's. Some of them are recycled. It's 52" tall, so that I can get in without crawling.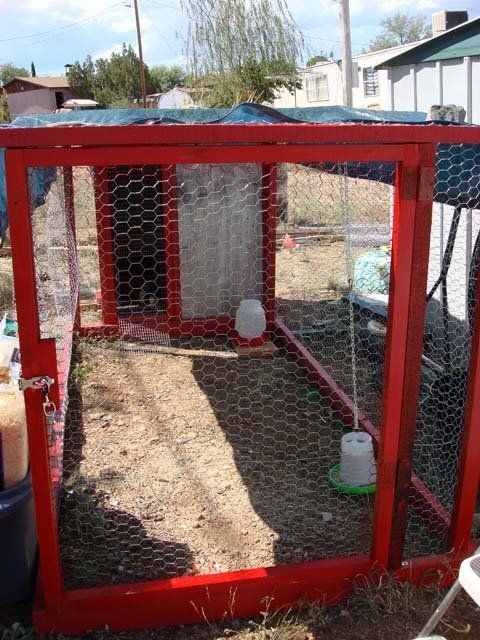 The chicks are Mary Ann, Ginger, Lovey, and Tawny; they are all Rhode Island Reds -- DH and I wanted New Hampshire Reds but no one around here sells them, and after I did more research I realized it's because the RIR's do better here in the heat.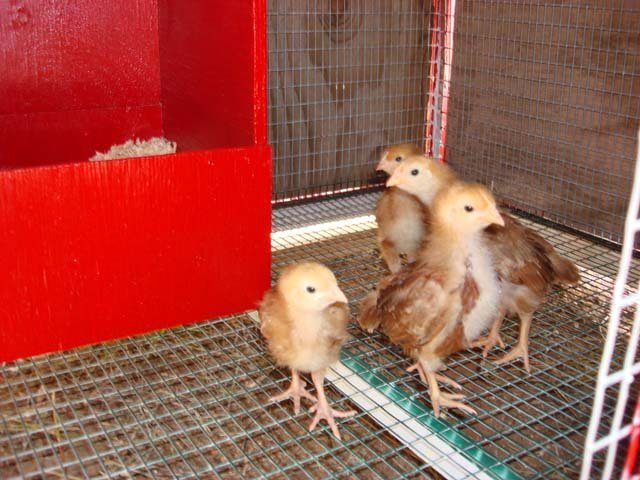 I have really enjoyed looking at all the coop/run pictures so many of you have posted, and you gave me hope that I could figure this out in the depths of my frustration