Oct 31, 2009
3,215
223
243
My runner ducklings from Metzer Farms arrived safe and sound this morning in FL. The post office called me at 8am and I went immediately to pick them up.
they arrive.
I was so worried there would be losses. But everyone was fine and there was 1 extra.
So, there are 11. 2- fawn/ white, 3-black, 3-blue and 3-chocolate. (I think)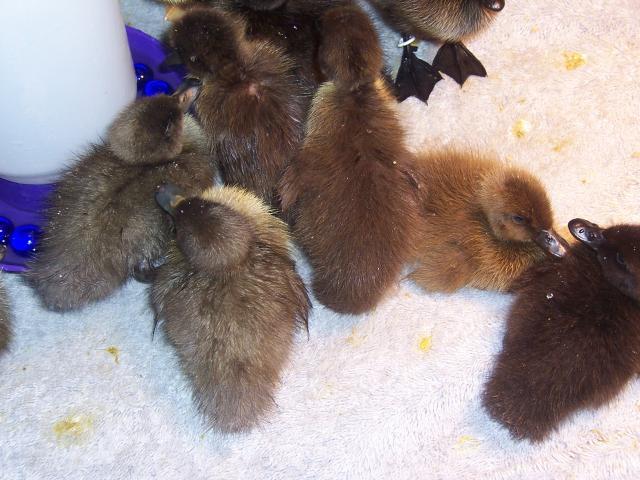 SO cute. SO messy already. I'm going to get some hay today so that they have a bit more cushioning. I read enough to get worried about using pine shavings so I was just used towels but so messy.
They found the water right away but seem disinterested in the food. I think that I am going to split them up and seperate the ones I'm keeping. (I paid to have 5 sexed 1-m 4-f and ordered the extra 5 which turned out to be six.) I think seperating them will help keep the mess down and soon I will have to remove the leg bands anyway.
Any advice on keeping them dry? They have soaked themselves with the waterer. I've used paper towels to blot them but am worried about chilling.
Last edited: