I made a new apron for my grand daughter Junie, who will be 9 in a few days now. Here is a close up of the front of the apron, the pockets are only pinned on at this point.
Here is the front once it is finished
This is the back
And this was the most fun part of the whole project.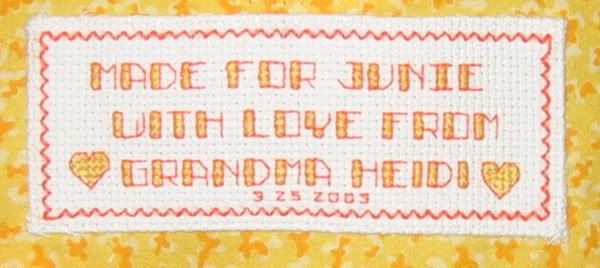 I put it on the underside of the yoke of the apron. This project was such an ordeal!!
Here is an email I sent to a couple people while working on the apron
Today I was determined to finish the apron I am working on for Junie's birthday. At about 2:00pm, I was feeling pretty good, I only had to sew on the rickrack, and put together the pockets.
Then I noticed a black spot in a very noticable place in the body of the apron! I had just pressed that place, so I figured it came off the ironing board cover, which was getting old. I attempted to remove the black spot, and only managed to make things worse! As I was trying to decide what to do, I found another black spot! Great!!
Well, rather than ruin more fabric on that old ironing board cover, I quickly drove to Bed Bath and Beyond and bought a new cover. Came home, ripped out the seams, cut out a new body for the apron.
To my great DISMAY, there in the center of the new apron body were three black spots!! It was a flaw in the printing of the fabric!! I had bought twice the amount of fabric I needed thinking I could make a couple of aprons from it. WEll, now I was in a quandry... I didn't have enough fabric to cut a third apron body. Thankfully I had made this one pretty long, so I was able to move the top of the pattern down a bit and recut it, minus the black spots.
By this time, it was about 4:30pm. Time to start dinner and get ready for services.
At dinner I drank some coffee, determined to finish this apron before I went to sleep tonight.
Well, I am now a bit further than I was at 2:00pm yesterday, it is now 4:00am!! I figure I better go to bed before the sun comes up!! It will now be Saturday evening before I can work on this again.
I think it turned out pretty good for having such a bad start!
Hope you all have a good weekend