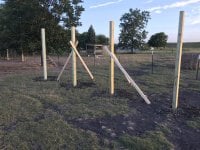 This thread will document the process of building a new all weather coop for my 50 hens. We live in central TX so typical weather temps range from 100+ in summer to 30ish in winter with occasional ice/snow but rare if at all.
After watching lots of hoop coop videos and sharing posts from BYC, we decided to go with a half hoop style which will allow my 6' body to walk through it with maximum space for my 11' x4' brooder (on curved wall) a dozen nesting boxes (back wall), ample roosts (straight long side), grain storage, hanging wateres and feeders. We have sketched the plans which are rough and are being adjusted as we go.
We got the idea of a half hoop coop from an arched cattle panel area in the Children's Garden which we grew vining plants.
So far we have set the 4 4x6" 10' posts and tested one arched cattle panel for height. It will have a regular screen door at one end and several chicken doors. The girls will free range during the day in a large grassy fenced area. The final dimension will be about 21' long, 12' wide and 7'+ high. We will cover it with chicken wire and a water proof tarp. It will have a ridge pole and several support posts down the center. I will post pictures as we progress. If anyone has any questions or suggestions please post.