I did not know where to post this.
I bought five chickens from a woman. Two hens and three pullets. They are Barred Rocks to go with my rooster. They are presently in quarantine. Two hens in one tractor and the three pullets in the other.
I did not notice this at first as I brought them home in the evening. The next day I was looking at the one hen and what I thought was pulled out feathers maybe from pecking or from a rooster was really an all red head....it is like the comb and wattle all have ran together to the back partway down her head. I did notice feathers missing on her sides/wing area from a rooster. I don't know if I ever actually saw her head but remember seeing the other hens head. The pullets were around 18 weeks and I separated them from the hens because this red head was so mean.
I understand pecking order but the pullets cowered in a corner for two days as flat as they could get and every time one of them stood up Red would run over and peck at them. I decided I did not want the three pullets to be cowered down birds and moved them. I already know that I will not put Red in with anyone else after the quarantine. She just may have to live in the chicken tractor by herself.
Is it just a deformity for her entire head to be red? No feathers at all on it? It just doesn't look right......anyone? I really don't like this hen at all....but I started worrying about this condition. She also lays really thin shelled eggs. I have started upping the hens protein and calcium because of that. (and probably that is the reason the lady sold them to me..) I am okay with it because the pullets look really good and are acting much better since I separated them.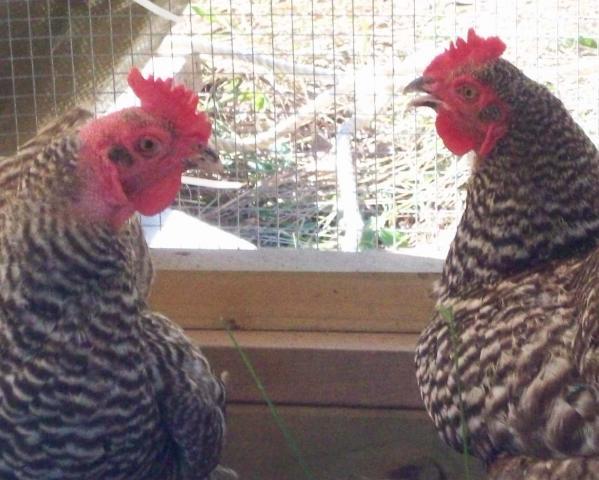 Lucy the red head on the left, Ethel on the right
Just Lucy....what the heck is wrong with her head?????
Last edited: