Hi everyone!

My name is Ashley, I'm 25 years old and I live in Baltimore, MD. My neighbor and I take care of her 5 chickens together. She has had chickens here and there for a few years but recently I've found myself very intrigued and loved by them. I spend a lot of time with them making sure they're living a happy life but recently we've noticed some health changes so I've decided to join this site in hopes of getting the answers I've been looking for!! I'll post some pictures of my hens below. I have 1 Rhode Island Red, 2 Leghorns, and 2 (all black with blueish teal feathers on wings and chest, pictured below) that I do not know the breed of. I'm thinking Australorp but the breeder told us Ameraucana. If you know what they are, please tell me!

Anyway, the RIR - named Scarlet was the original hen. All of her other coop mates had died and she was alone for about 6 months before my neighbor got the Leghorns and the other 2. She wasn't a fan of them when they were chicks but they all like to hang out together and sleep close to one another. The others do not yet have names. Do you name your chickens?

I'll keep this post short and sweet but keep an eye out for other posts that I'll have in the next few hours. I'm excited to be apart of the BYC Community and I can't wait to expand my knowledge and meet new people! Thanks!!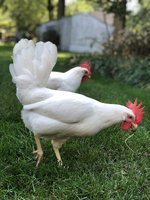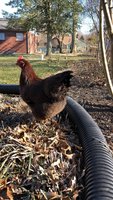 Last edited: