Hi all
We got three chicks around easter when from my daughters school, they had eggs, which they incubated and hatched so that the kids could see what happens, anyway we decided we would get one for her but I have three children therefore we decided on three.... Rosy, Lulu and Tiny they were named.... one white one Rosy (my daughters one) and two brown ones Lulu and Tiny (my twin sons ones).... as they started growing we kind of had a feeling that poor Rosy wasnt going to be Rosy for much longer and yes one day she started crowing so she is now Robert.
Lulu and Tiny started laying early around 19wks and have been good little girls - Robert is quite protective of them at times but the kids love them all, but of course we have another member of our family that had to get used to them Timmy our cat.... he soon got friendly and they are all pretty much good friends now, I have posted a picture of them all eating grass together.
I hope that I find some answers to my questions on this forum as I have read some very interesting topics and learnt quite a bit already.
Regards
Heather
Tiny, Lulu and Timmy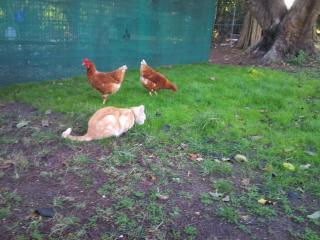 Chatting to their neighbours through the fence