May 20, 2012
148
15
81
My Coop
Just joined back yard chickens tonight and thought I would give you all a little background of myself.
I live in Winston-Salem, North Carolina and have been jumping through hoops and cutting through all sorts of red tape to get a "Special-Use Permit" to raise some chickens in the city! The first step in this process was to determine what type of coop to build, which is actually what led me to this site!
We found and fell in love with the design of the "Wichita Cabin Coop" and were lucky enough to get our local county college's carpentry class to build a model for us. We had to submit scaled elevations of it, along with scaled site-plans of our lot, with distances from neighbor's property lines, photos and information on the breed of chicken we would intend to raise, and our purpose!
We then had to place a large sign in our front yard on the street which made all neighbors aware of our request for the permit. A month later we had to attend a meeting in front of the Zoning Board. Thankfully we have nice neighbors (who we convinced not to complain by promising fresh eggs) and thus had no opposition. Therefore we were approved! After a couple of weeks an inspector from the city came out to make sure we had the allotted number of chickens, and out coop was placed in the correct location as specified by our permit. (Sheesh! It would be easier to have a pack of Pitbulls than a flock of chickens in this city!)
We decided to purchase Silver Laced Wyandotte chickens and after having no luck finding any local breeders we resorted to looking on the internet hatcheries. The ones we checked including Ideal Poultry, McMurray Hatchery, and several others were all sold out of Silver Laced Wyandotte Pullets until JUNE! But we could not make ourselves wait that long...
Then on April 1st 2012 we were at a Mill in Walnut Cove, North Carolina and the owner had just gotten in some Silver Laced Wyandotte Chicks! We purchased 6 (Hoping to end up with 4 Hens out of the 6) because our permit only allows us to have a maximum of 4 chickens.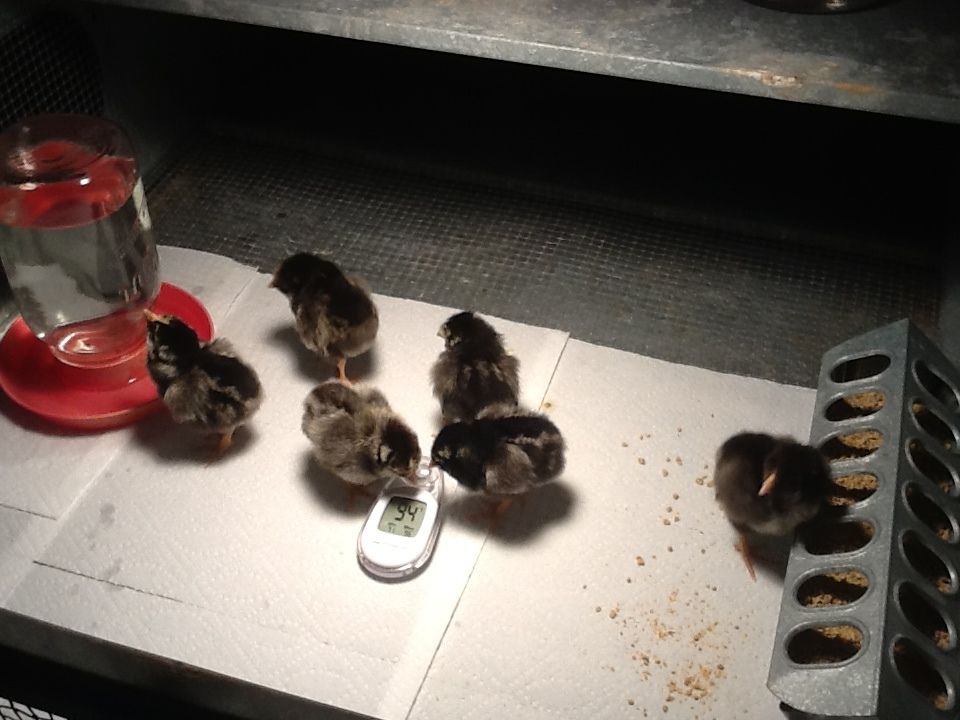 We brooded the day-old chicks in a brooder we built in our garage until they were 4 weeks old when we moved them outside. (Tiny feathers STILL everywhere in the garage)
The "Wichita Cabin Coop" replica is still being built, should arrive sometime this week. For now our 4 pullets are living in an old rabbit hutch. (We keep convincing them it is only temporary.)

And that's pretty much it! Our girl's did get some media attention though from the local news organization and here is a link
where you can see them when they were a couple weeks old!
http://myfox8.com/2012/04/10/winston-salem-city-council-is-crowing-over-chickens-in-backyards/
Very nice to meet you all, look forward to learning more information on raising happy, healthy chickens!
- Zak