Okay got 10 free chicks with the purchase of 50# of starter/grower feed. All that was promised was they were straight run. 4 weeks old now.
I got a few of them figured out.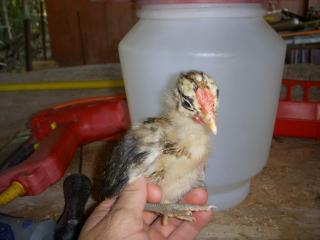 I know they are sicilian buttercup, but are they roos or pullets?
Now what about all these jokers?
Cochin--roo or pullet?
And this white job, he has a few grey spots on his back. He's a biggun too!
These black jobs, the larger ones have a brown flecking on their backs.