Hello everyone my name is Rosa and I am a new member to this site as well as to raising chickens. I started September 16, 2018. I think that they're doing well.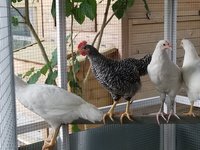 Now my husband and I will like to raise quails and rabbits. Does anyone know where in Florida I can buy them. I live in the Jacksonville area, but I will drive anywhere in Florida to buy them.
Thank you for your time.