Covered in Pet Hair & Feathers
10 Years
Sep 22, 2009
15,506
457
358
I bought four pullet chicks at a feed store, 3 of them were over a week old and one was 2 days old (last Thursday). I got 1 Ameraucana, 1 RIR, 1 Plymouth Rock - Barred, and the youngest chick is a Brahma. They were out of any older Brahmas because they are so popular, I guess.
Anyway, there's already a pecking order: the Ameraucana bosses the others around. I've named her Hilary. The RIR is Rhoda, the Plymouth Rock is Rebecca, but the youngest hasn't demonstrated a unique personality yet, so I currently call her FuzzButt.
I had to use a wire hanger to suspend the feeder so they couldn't kick too much litter into it; I put the waterer on a stack of flat shale rocks. Even FuzzButt can eat and drink without difficulty. The red heat lamp may make it a tad too warm for the older three (who have feathered wings already!) but FuzzButt needs the higher heat, still. Yes, I have a cool area of the brooder box for 'em.
I put construction sand in a small dish for grit, because I discovered they will eat mealworms and bits of watermelon - even FuzzButt!
Ameraucana - Hilary
Plymouth Rock - Barred - Rebecca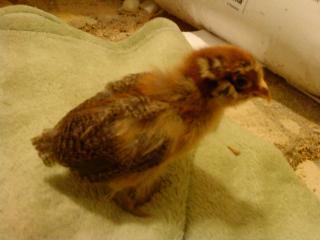 RIR - Rhoda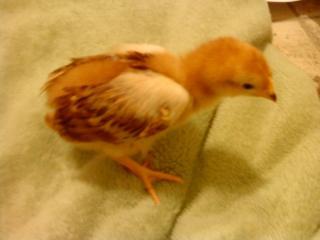 Brahma - "FuzzButt"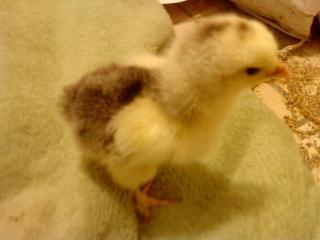 My tractor/coop is large enough for six to eight hens, I think. The interior upstairs part is 4 ft by 6 ft. Once all four have feathered all the way out, will they be comfortable in that space, or do I have an excuse to get a couple more "for company and extra body heat?"
Thanks!