For reference this is my current roof
https://www.backyardchickens.com/t/562151/new-coop-build
It's starting to sag, leaks in the middles, and oh yeah it's heavy as ****** and I'm moving so this won't do. I made the coop itself modular so they come apart in panels. However, I've been wanting a new roof for a while and this move will force me to complete it.
I'm thinking corrugated plastic over a wooden frame. That way it's lightweight and the overlapping corrugated material will keep out moisture. Because of my coop's slant, the roof will slant front to back, so I will have to layer the corrugated pieces with channels facing the back.
lowes used to have a fiberglass roofing panel but I can't find it anymore, which bums me out b/c it had a long warranty. So my options are PVC or polycarbonate seen here(
Lowes plastic by Tuftex
or
Home depot polycarbonate
)
I plan on mounting it to my frame using
these
. These will allow me to slide the 2x4 (was going to use furring strips, but braces don't come that small) into the brace so the entire roof can be lifted out if need be. The 2x4s will be mitered to be flush with the frame wood (I'll have to figure out the angle...?) Looks by the measurements that I'll need 5 sets of 2x4s.
I have a rough sketchup here showing the lengths of the available wood to attach based on my frame's top pieces. The panels will be cut into 26" W x 48" L pieces and there will be four (from two panels) overlapping to make an overall 48" L x 104"(or less) roof for my 4'x8' coop. The overlapping should (in my book) keep out moisture and those joints are where I'll screw down to the 2x4 pieces.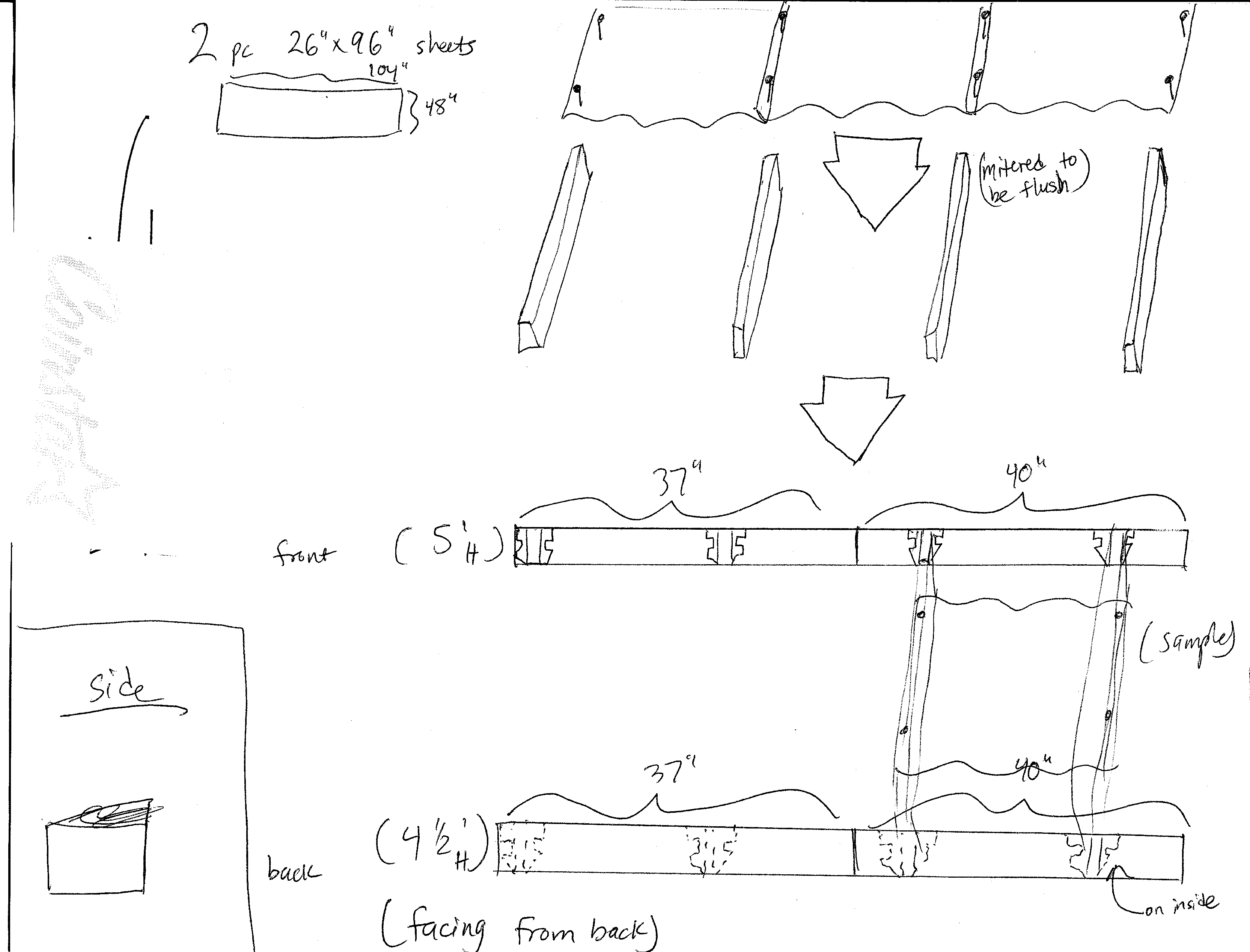 For ease, I was going to slide the 2x4s into the joists then screw the panel pieces down onto them. I already have a triangular piece on the sides for the weird triangle left from the front being higher than the back. Also, the small wavy gap between the panel and the wood will provide minor ventilation. I already have plenty of other ventilation, so that's not a worry.
My questions are:
1. will it be strong enough so long as I keep 2x4 framework under the edges of each panel?
2. Will it be waterproof? I also plan on putting silicone caulking at the seam on the bottom part of the roof for each segment joint.
3. Am i thinking about this framework the right way with corrugated roofing? never done it before?
4. Will plastic be ok? (polycarbonate has a 10 yr warranty)
5. Will it be awesome?
Thanks