Jun 17, 2018
74
134
96
My Coop
I finally had to give in and build a new coop. My old one(s) was starting to fall apart, plus I had 2 girls going broody in it so they needed a separate coop either way to raise the chicks. So lets get started.
Step 1: Build a base and start framing walls.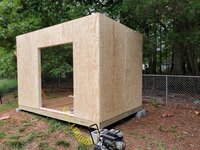 I decided to do an 8' x 12' x 8' coop this time to give the girls plenty of room (I currently have 35 with 4 roosters). The base is simple pressure treated wood covered in OSB.
Step 2: Finish walls and put on a roof.
The whole front edge here is hardware cloth on the top for ventilation. Having my father stand in the coop gives some perspective of size that it was hard to capture with the coop itself.
Step 3: Finish the roof and add the doors. Don't forget to add a Chicken door! Also a small dog helps.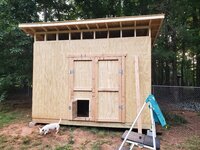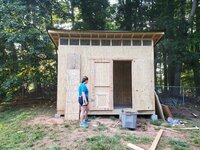 Step 4: Lets finish it up. Paint it and add roosting bars and a nest.