Hi everyone,
My Dad came down from Paraparaumu other weekend to see if he could help with the leaking into the coop. Have added some pics.
The blue used tarpoline / ground cover is not the best quality. It is what I originally had covering the coop, but water had been getting through a little and pooling on the actual coop roof and making its way in.
We had some rain very recently and the tarpoline started to sag and hold water, causing dripping, hence the plastic washing backet to raise the ground cover up a bit so water can run off.
We also raised the coop up a bit with 6 wooden blocks.
It was already raised onto two wooden pallets, plus its (Dad made) made to fit wooden pallet with narrow gaps).
The side bars are able to be raised and the roof pushed back.
Dad was only using what he had on hand.
And a better quality ground cover will definately keep out the water - catching lots of flying birdie poop though

The idea around the legs was maybe being able to treat them with something that would stop red mites coming into the coop - any ideas? - Vaseline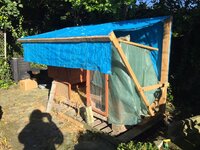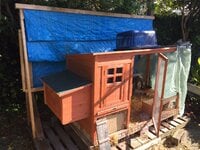 For those who might be concerned: 1. I put the ramp in place but chickens have no problem getting in. And 2. My whole backyard is shared with the two chickens.
Cheers,
Sue