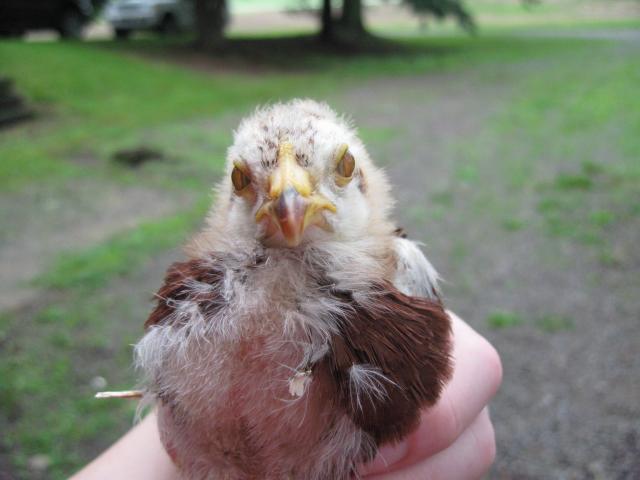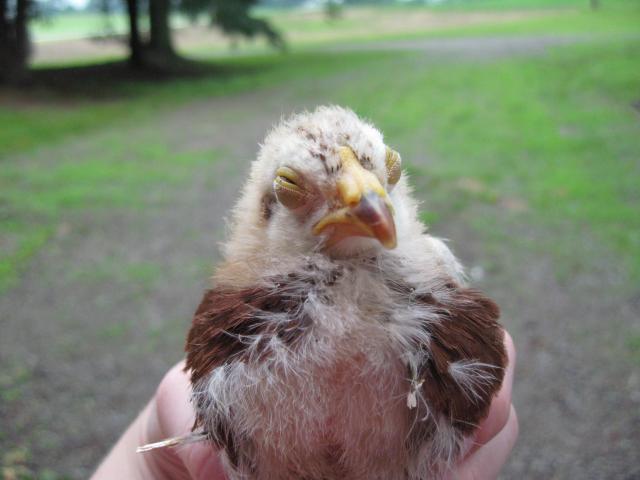 Hey, we are new to chickens, and are having a rough start. We have 3 week old buckeyes. Two days ago we noticed one of them had bulging eyes, and he was twitching/jerking his neck more than normal, and his feathers also seemed a little "rough?". We separated him from the others, and have tried to find out what is causing it, but all we are coming up with is Merak's (contracted from the immunization), but he is too young for that to be showing I think, and his eye color seems to be normal. He might be having vision trouble, because he doesn't seem to see our hands, etc real well. Please help us

Below are the answers to the questions the sticky said to answer.
) What type of bird , age and weight. Buckeye, three weeks, normal? weight (he is about same size as others)
2) What is the behavior, exactly. His eyes are bulging, and he jerks his neck every couple seconds, might be having vision issues...doesn't respond to hand coming at it until you are touching it.
3) How long has the bird been exhibiting symptoms? This is the second full day
4) Is there any bleeding, injury, broken bones or other sign of trauma. No
5) What happened, if anything that you know of, that may have caused the situation. Nothing
6) What has the bird been eating and drinking, if at all. He has not been eating much. He is isolated by himself.
7) How does the poop look? Normal? Bloody? Runny? etc. Not sure.
8) What has been the treatment you have administered so far? Isolation.
9 ) What is your intent as far as treatment? For example, do you want to treat completely yourself, or do you need help in stabilizing the bird til you can get to a vet? Not sure...need advice!
10) If you have a picture of the wound or condition, please post it. It may help.
11) Describe the housing/bedding in use We are using pine shavings, we have been using the deep liter method.
Last edited: