Hello!
I started with 2 Guinea fowls and 2 Turkeys 7 months back. All the keets were 1 month old. The turkey hen laid 24 eggs and is sitting on them for about 20 days.
But there is no sign of the guineas laying any eggs. They are 8 months old. I heard the "Buck-wheat" sound many times. So there is a female for sure. What can I do?
I added two new guineas to the flock 2 days ago. I'm not so sure about their gender. Give me some advice about them as well.
Okay in short, I'm here for two advices about-
1.
My guineas not laying eggs
2.
To determine the gender of my guineas.
Thanks in advance.

Here are pictures of my old Guineas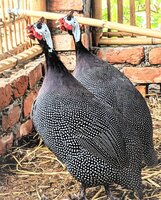 Picture of my new Guineas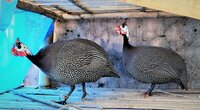 Here are videos of my old and new guineas