These Chickens are supposed to be purebred Gold Laced Wyandottes...
My suspicions were peaked when my sole surviving hen from our first, massacred, flock of GLW chicks. The larger chicken in the first pic is laying blue/green eggs, which apparently means she is not a Pure GLW...

Now that I was suspicious, I began checking out all the birds in the newest flock, that I received from the same place (Meyer Hatchery). My guess from my research is they are Easter Eggers mixed with Gold Laced Wyandottes, because they are "Similar" in their markings, although they are so different at the same time....
The "Survivor" hen (in front) that is laying now. (Very Sweet and pretty girl!)
Note the Green/Blue legs
More Green/Blue legs (Also very pretty)
And the final pair of Green/Blue legged hens
Now the rest of the flock, all look very similar to each other, minus the one in the background (green/blue leg)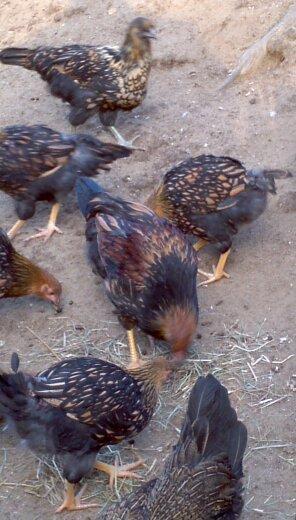 I also have questions about my "GLW" Roos.... Will post later....