OK, so my 3 babies moved out to their coop yesterday & spent their first night outside! My plan was to confine them 24/7 to the coop over the coming weekend while we attend my son's college graduation -- I read on BYC somewhere that they would identify the coop as "home" and go to roost at night more easily if I confined them for 2-3 days. Plus, the coop itself is well predator-proofed, but our fenced back yard would be vulnerable to the usual suburban predators if the chicks weren't locked up at night.
My problem is this: we have forecast highs in the mid-90s for the whole weekend. The coop is well-shaded most of the day, but I'm worried they will be too hot in the late afternoon when the sun hits it. The coop is not huge (4' x 6' x 4' high), but it is very well-ventilated (see photos below), and of course they will have plenty of water. Yesterday was our first really hot day (93°), and they spent the afternoon under a large shrub, and I noticed they were all "panting" in the hottest part of the day.
This shows the 4-inch covered vents on the sides of the coop (6 of them in all) and the 1' x 2' opened window in the end. There's also a 9" x 9" roof vent, which you can barely make out.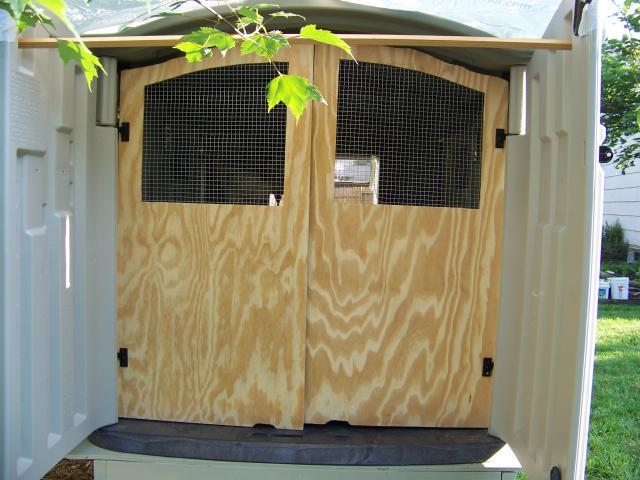 In hot weather, the main coop doors will remain open like this (with a plastic tarp over them as a kind of awning for the windows in the ventilated plywood doors). The windows in the plywood are about 16" x 16".
This worried chicken-mom needs to know if they will be OK, or if I need to make other plans!
Thanks!