Before we leaned all about chicken math, I ordered a coop kit from
amazon
thinking we'd only have 3 hens. Well now we have 7 and there's just no way they'll all for comfortably. Because they will free range during the day and sleep in their coop at night, we really didn't need something huge.
I found an old playhouse for free on a local Buy Nothing group and am currently in the process of converting it. It's not quite done yet but I did want to go ahead and get a thread started for it!
A couple of disclaimers:
We used Rustoleum 2x because it claimed to bond to plastic but, we have had a few places it's scratched off. We also live in Oklahoma so the weather here is wild and we can experience all 4 seasons in a week so there are no promises on how long it will take for me to get it outside and assembled.
Before: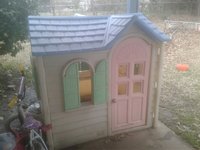 After painting and attaching hardware cloth to doors & windows: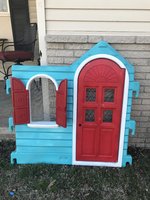 I still need to get locks for the shutters/door, find a cute little door knob and figure out what to do for flooring and put in a roosting bar/nesting boxes.
More to come in the coming weeks!