My first chicks are on order, due to arrive the week of June 6 - we are moving and need the extra time to finish moving and building to get ready for them. I would love some input on the coop my DH and I have designed. We have a dozen chicks on order - 4 BOs, 4 BRs, 3 SLWs and 1 BLRW. We've pored over all the pages and pages of coop pictures here at BYC, and taken ideas from several, combined them into what we want.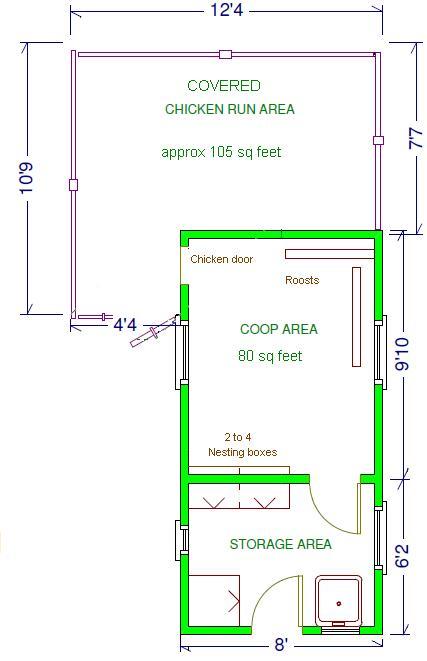 The outside is going to look like a little cottage, with a front door from a house as the entry to the storage area. There was one left at our property - it has diagonal gridded glass panes in the top half, exactly what I wanted! Just needs a little sanding and finishing. There was also a portable utility sink left at the property - we plan to run a water source over to the coop, but it will just be for rinsing off hands or eggs mostly, so it will just drain out in the open.
The nesting boxes will be nearly flush with the inside of the coop wall, protruding out into the storage area, where there will be access lids. The top half of that wall will be screen, the bottom will be solid around the nesting boxes. The door into the coop will also be screened at the top - and it's another recycled find. A friend does the maintenance at a bunch of rentals owned by a real estate company and had to replace a door because there was a crack in the top half. We'll just cut that section out and frame it in with a screen.
There's a storage cabinet across from the nesting boxes, that will be where we keep food and/or supplies.
The front door of the "cottage" will be facing west, with the long sides of the coop on the north and south, with windows on both sides for cross ventilation when it's warm. The run is on the north and east ends of the coop.
Any input/suggestions?