We have a new homemade 4X6 coop, elevated so the hens can use the space underneath for a covered run area, plus a 6X12 dog run. We borrowed a lot of ideas from this site and are really pleased with the results. We used a combo of new and recycled materials so it was not very costly. So take a look and let us know if you have any suggestions
Because our yard is not fully fenced, and our neighbor lost both cats to coyotes last spring, I'm a bit worried about varmits The run is older chainlink (heavy) but we ran 3' hi chicken wire around the bottom attached with zip ties, we used hardware cloth around the underneath the coop, stapled top and bottom to a wood frame. We used old fencing over the top of the run, secured all around the edges with zip ties.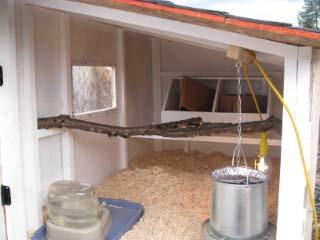 We realized already that the light is too low and needs to be rigged up a different way. Are the nest boxes too high? And someone has been roosting on the water at night, I can tell by the poop piles, any ideas to keep them off?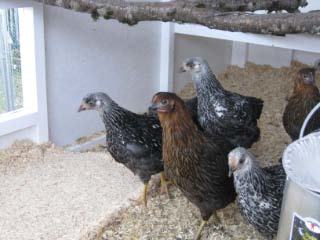 Although our weather has been stormy, cold, snowy the girls seem cozy, we have eight about 3 months old. Sorry this is so long and I hope the pictures come through, if not visit our page. Thanks