Somehow I got it into my pointy little head that I could build a coop out of the free pallets that are available around here. I brought home what I thought were tons of them, picked six for the floor, and started dismantling others to make into siding as I've seen around the forum.
What I've learned: There are slow and material conserving methods, and there are faster, lower yield methods. I got tired of pounding and prying to release boards, and decided that sawsall and I could just cut shorter length planks from between the 2x4 in the pallets. I'm planning on making board and batten type siding for my 8x10 coop, and figure I need about 270 sq ft of siding. After I'd been at it for a while today I decided to stack the pieces neatly and see if I could come up with an estimate of how many square feet I've rough cut. I figure I've got maybe 40 sq ft of usable material so far. It's so small compared to what I need!! We need to get this done!! How long before I should panic?!?
I'm trying to be extraordinarily frugal, still have about $150 available, but still need to buy fence posts, nails and screws, tarpaper, floor and roof sheathing, etc., etc., etc......

The beginning of the foundation:
Tenative candidates for the floor: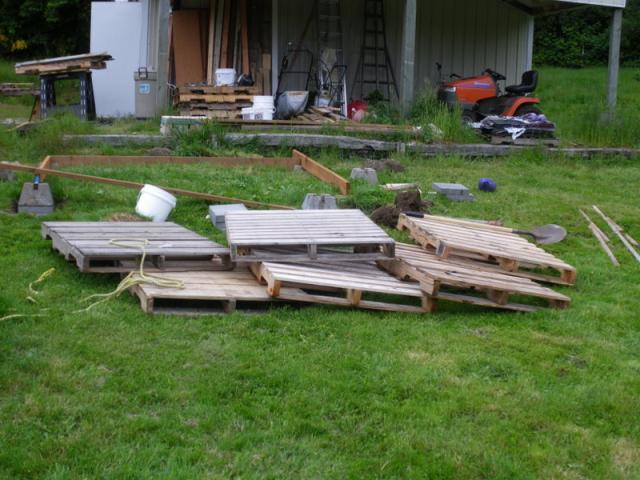 My "big girls" in the free tractor:
The $50 craigslist tractor: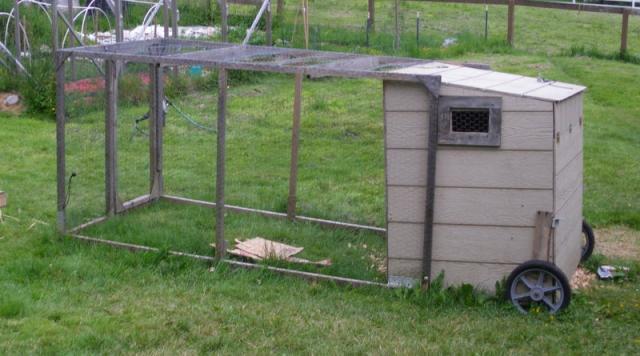 I have 8 one month old chicks in this, the coop portion is about 3ft X 4ft, the run is about 8x4. It will be getting crowded soon!