My little girl Gina, a 3 yr old Red Star, was unwell, sitting in the coop on a sunny day on her roost with bright green diarrhea beneath her. I immediately isolated her. Within one or two days she had little to no strength or balance, easily falling hard onto her keel with each attempt to stand. (Note: keeping her on a well cushioned area was important, as damage/bruising to the keel can occur otherwise). She had no interest in eating/drinking (which also may have explained the neon green poop). I initially fed her mashed boiled egg--a full yolk, with some minced egg white (mashed with a fork), mixed together vigorously in a shot glass, adding a pinch of water if too thick for syringe suck-up. Note: egg is only boiled for 3-4 minutes with egg yolk almost raw, or at least bright yellow and mushy. I began giving her my go-to for many chicken ailments: 20ppm colloidal silver, mesosilver, (I use it for myself as well) , dosed at 1.25ml 3 times a day away from food, also using a syringe.
She had her own cut box with hay to lie comfortably in, with enough cushioning:
I also made a full body sling (idea taken from other members--thank you!), enabling her to have her legs stretched, and to use whatever occasional leg movement she could, with the support of the sling.
I soon upgraded to the below for better inner air circulation and easy cleaning/poop collection: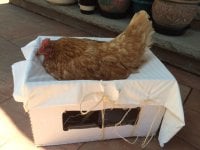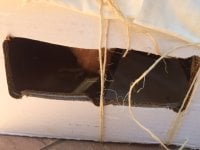 Seeing that her recovery would take time, combined with a persistent disinterest in food, I purchased Kaytee's Exact Handfeeding Formula (containing essential enzymes, probiotics, and nutrition) and fed her appx 1.5 scoops a day, morning and night while providing her with water, always using a syringe, throughout the day (about 1/3 cup to 1/2 cup a day). Her poop began to solidify. We allowed her to spend time outdoors as it was warm, and kept her indoors at night.
After about a week, I thought to add (lypospheric) Vitamin C, 500mg - 1000mg/day given in divided doses. If she had diahrrea, I reduced the C dose. (Note: lypospheric C reduces the chance of C induced loose stool in humans that other forms tend to cause at higher doses).
She began preening again, and so I kept hopeful..
And little by little after 2 weeks.. !
Her balance was still fragile but day by day it improved: she'd take several steps before sitting, she could preen more, and finally lift her leg to scratch her face!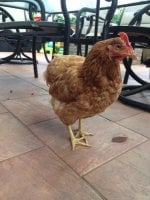 When her appetite returned, as I would try to give her pellets occasionally to see, I noticed she could not pick up food with her beak. She would miss, and it would take a bit of time. This has persisted but has gotten a bit better. I now make sure to offer them to her in a small container as opposed to scattered on the ground, where she can get them with a lot less effort. She also began drinking on her own again.
It is about one month and she continues to make progress. She eats more, drinks, walks, preens. Her energy levels can still improve. It seems she has spacial awareness issues as she walks over her food/water. Or perhaps it's her eyesight. I continue to give her colloidal silver occasionally, and the occasional vitamin C.
Will post an update soon.
References I found helpful:
http://www.compassionblooms.com/healed-sick-chicken-detailed-instructions/
Vitamin C:
https://www.dsm.com/markets/anh/en_US/Compendium/poultry/vitamin_C.html
Also, due to her having been ill and not having dust bathed, I've noticed her (white) mite issue has worsened. I've applied diatatomaceous earth throughout her feathers and will keep an eye on them.
I hope this helps someone!