Today I had to put down my beloved Drake Peking Tote. He was my favorite very sweet and looked most like Donald duck.
These ducks all 8 of them were abandoned here at my pond - We lost Matilda a few months ago and the flock was upset for a while. She was like the Mom in the flock!
There were 2 boys Tote and Walter. So 5 Girls and 2 Boys. There was a pecking order and my smaller peking petunia I noticed was shrugged off a few times from Walter!
Tote the other Male was in the
duck house for the last 2 weeks under Medical Attention
and his breathing and health were in decline - Yesterday one of the
girl ducks started attacking little petunia
and the other
Drake Walter was also not letting her eat .
I put the bully girl duck in side in cadge
Everything seemed to escalate yesterday - I had to bring Tote in MY house last night and the Vet this Morning - in the Morning I let the bully girl out and she started attaching Petunia Again- She was placed back in the duck house on lock down.
When I put everyone in the House tonight - Tote was not there for the first time and Walter started getting aggressive again to little petunia.
So upset I put him in cadge also - I know sometimes they say that the one being attached is sick - she is not - I think the lose of Tote has caused an imbalance in the flock and they are upset .
Please help in TEARS WRITHING THIS- IT IS TO MUCH TO HAVE THE LOSE OF TOTE AND NOW HAVE THEM ATTACKING PETUNIA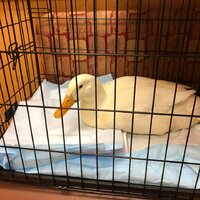 Tote