The addiction lives in my soul! I just got this great coop built for me in July, and now I'm in renovation. What do you think? I want to be able to fit 7 hens, for now heh.
Current Coop Info
- 2 Feet off the ground
- 2 Nest Boxes
- Floor 5 x 3
- Holds 4 pullets
- 3 Holes for Ventilation, 2 on either top sides of the coop, one below at the bottom. ones at the top can be covered. Both are covered by hardware cloth.
- One main door, not walk-in.
- Ramp leading up through chicken door
- Painted blue w/ white trim
- Run is 6 x 5, very hardy and predator proof, made of hardware cloth and wood. below the coop there is hardware cloth and on the side a door for changing out feed.
- Storage (feed, wire, brooms, rakes, trashbags for cleaning, bedding, oyster shells, etc) is stored behind the coop.
- Outside Nest Box Access
- 1 Roost At The Top of The Coop
Future New Coop Info!
- On the ground
- Walk-in, 6 feet high
- 4 nest boxes
- Two holes at the top for ventilation gone, have ventilation at bottom and very top. hardware cloth covered.
- Chicken door that goes to the run, with small ramp at bottom
- Still blue w/ white trim, painted "Nix Chix: The Ladies" on door
- Keep the same run, and add another identical run on other side that can be closed off when needed
- Storage still behind coop + run
- 7x 4 floor
- Heat lamp in corner for Winter
- Outside Nest Box Access
- Two parallel roosts at mid-level
- Cute little rooster handle on outside nestbox door
Thanks!

Any advice or suggestions? Anything I should change? I'll post pictures of the plans soon and start a thread about the progress in the summer when I start.

Thank you so much!
Nick
*Edited To Add* Here's the coop I'm renovating (this is an old pic, now ive cleared out the run to 1 roost, a feeder and a waterer. also this was taken before i made the area behind it for storage.
From the front
From the side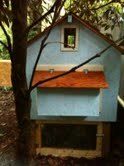 Last edited by a moderator: