I do hope someone with more chicken and chicken wound experience than me can chime in with some wisdom or experience.
This chicken (who I named Vulture or Vee for short yesterday) was attacked by a hawk late Monday night.
I started a thread on Tuesday as to what to do, but eventually after digging around for a while on this site found enough info to treat Vee to the best of my ability. A member eventually assured me I was on the right track and I was super grateful for that, but was unable to give me any extra info.
Here
is the OG thread.
So, three days later Vee is doing GREAT.
I've been lightly cleaning her wound and applying antibiotic ointment daily.
She gets .35ml of penicillin G a day (3 doses so far), kept in a large dog carrier in my spare bedroom, and eats things like grain with probiotic coconut yogurt, homemade bone broth chicken soup and a fruit treat here and there.
I am at a sort of crossroads with her where I am hoping for advice. When she was taken by the hawk, it ripped out her skin in two places, leaving a quarter inch of skin in between the neck wound and scalp wound.
The wound looks the worst in this area, as the way the skin was ripped left a bunch of pockets for bacteria to sit in and also under the strip of skin.
It still smells normal, no unpleasant odor at all but there is a bit of yellow/green puss looking stuff on her scalp.
I did clean the yellow stuff as much as I could this morning, thinking that getting rid of the necrotic area might promote healing.
**I was thinking maybe I should cut that strip of skin away?**
And cut the most necrotic areas too, until they bleed signaling healthy alive skin?
Or should I wait because the dead skin will scab up and just fall off anyway?**
Should I cover the wound if I can?
I'm so lost as to what the next step is.
Vee is absolutely LOSING her mind of boredom in that cage, I let her roam from time to time but she wants out! She is a sassy thing, even stole food from my cat.
Should I move her to the injured hen coop now that I know she is not in shock and has no internal injuries?
Will being able to see and hear her fluffy butted family be good for her? I did let her roam the field on Wednesday and we dug up some grubs and wormies together but she badly wanted to go home.
Tuesday
Wednesday
Friday before cleaning/debridment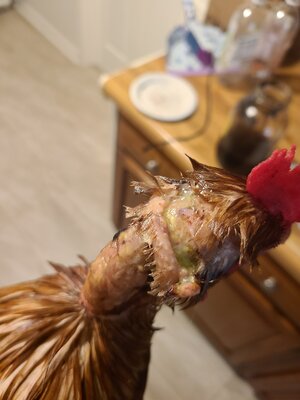 After
So, any advice would be so appreciated.
If not, maybe if someone is ever in a situation similiar to mine, they can find some info here.
Happy butt fluffin!