Any ideas? Please. Solution? What would you do?
young cockerel (above)
Young pullet with a pea comb (two photos below)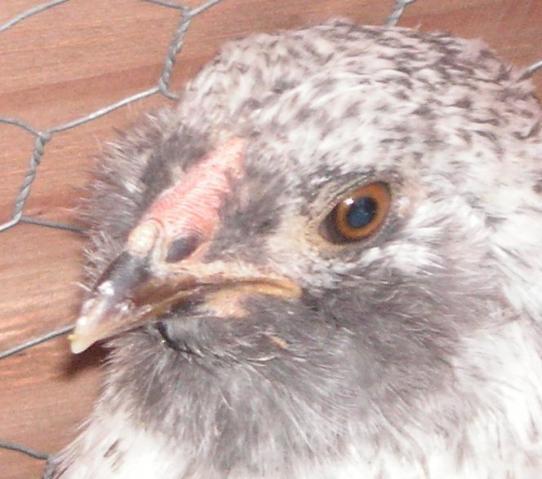 They are together, confined in brooding pen luckily (so less chance of spreading). They were from same hatch and haven't grown big enough to join main laying flock.
Age: about 3 months.
Have had condition about 2 1/2 weeks.
Only symptom: Bump or wart on top of beak or bottom of comb. It's right where beak meets comb.
There are no other bumps. Not on feet either. They act normal. There are 6 together. Two others look like they may get the bump because they have a rough spot that is still flat right at the juncture of the beak and comb.
One bird is a pullet. The other two are cockerels.
Since there are no other bumps, I have a hard time believing it is fowl pox. Besides that, the bumps haven't crusted over, nor turned black.
Since they seem to be spreading (as in one bird had the wart first, then a week later the other two got the wart), I imagine it would spread to rest of flock eventually, either through chicken wire or after they are integrated. I'd rather they didn't all have bumps on their noses.