My head is spinning!!! I have been reading post for hours and cannot figure out exactly what is wrong. I need a second opinion - beside the options given by the vet today (to operate).
PLEASE HELP! She is my favorite, of course it had to be her to get this!
hen – 5/6 yr old Blue Andalusian; 1 of 4 hens
feed - I recently switched to Nutrena layer, of which about 3/4 of the bag is gone.
normal - eating, drinking, actions
- comb full and red
started - don't know how long she had it because she acts normal! I do put them in a covered crate at night to keep warm and never noticed anything.
But, sometimes she is already in before I get there so then I don't handle her.
abnormal - VERY pasty butt yesterday so when I washed her off I noticed a protruding vent.
- stands like a penguin when straining to poop
- poops seem normal, but at times there is just urates and urine discharging
- "vagina" is sticking out, and raw because of poop
- in early Jan, gave her, and her sister, Duramycin for few weeks because they weren't eating (that's why I switched feed) and because
their combs had shriveled down to nothing.
- did notice the litter in the crate would have areas about 3x3 that were wet. Just thought it was from poop or maybe from them laying on it all night???
Don't know who's it is either..
laying – don't know for certain if she was laying before this point, but most likely was. Her sister also lays white eggs so it's hard to say; the other 2 are brown and blue.
so far - soaked her in warm soapy water, massaged under belly and felt what seemed to be an egg. It did move up, but never came out.
- brought her inside the house last night, and she did lay on the heating pad.
- giving her Duramycin (that's all there is in our feed stores!)
vet - brought her to a vet (an avian vet). Said she felt a large mass, didn't know what it could be, but could operate.
Said the prolapse would keep occurring unless operated on.
- Depending on what I want done, operating will $200 for the prolapse; another $200 is I want something done with the mass, and $500 for a "spay".
But, it is a catch-22 and therefore the bill would be $900!!
- Didn't clean anything, didn't suggest what to apply, just sent me out with Metacam (liquid) which I know I won't be able to get down her.
As much as I love this bird, unlike any other animal I have had, I cannot afford it.
I would like to know....
Is there something I can try, beside operate????? Can the prolapse be healed; will it reoccur? What is the best to clean it with??? What about put on it? Would liquid bandage be okay to spray on it after it is cleaned so the poop doesn't reinfect it??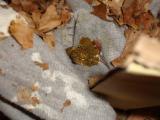 Last edited: