May 11, 2009
2,045
41
284
I think I know what this is but didn't think I would have to deal with it ever. Its a BR Roo, probably about 10 to 12 weeks old. A red bubble the size of a small marble is sticking out its bum. Not sure what this might be in a roo. I had read some about prolapsed vents but that could not happen to a roo could it? It might be a pullet and why would this happen. Otherwise it seems healthy. It is now separated so I can observe.
I have looked up everything and may try honey ( would raw honey be bad because that is all I have) or sugar. I don't have preparation H at home is that needed. I do have stuff for diaper rash but I don't think that will work. Any other suggestions.
Ok so I washed its bum and the bubble went back in. Yay happy dance. Then I sat it down to take a pic of it and it pooped. And the bubble came right back out. sigh no more happy dance. So I tried to move a feather away to take a pic so I could post and get help and in that process it went back in. I am so confused. I don't even know if its a roo anymore. Potentially I suck at this.
Not a great pic but its just a little round red ball like a small marble. I hope I never become good at taking pics of chicken bums so please excuse the bad picture.
[URL]http://www.backyardc[/URL]
This is what it looks like when it goes back in. You can still see it but its in.
[IMG]https://www.backyardchickens.com/forum/uploads/30964_img_2411.jpg
This is my boy, I think, possibly, maybe Like I said I am now very confused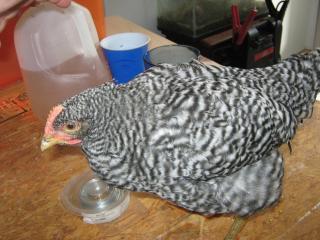 Last edited: