Pumpkin Bread
2 cups SUGAR
4 EGGS
1 ½ cups OIL
2 cups FLOUR
1 teaspoon SALT
2 teaspoons BAKING SODA
2 teaspoons CINNAMON (or pumpkin pie spice)
1 ½ cups canned PUMPKIN
1/2 cup chopped WALNUTS
Preheat oven to 350. Blend together sugar, eggs and oil thoroughly.
Sift together dry ingredients and add alternately to above mixture with the pumpkin, mixing well after each addition. Stir in walnuts.
Bake in greased and floured 10-inch tube pan (like a Bundt pan) for ONE hour. Cool 20-25 minutes in the pan.
Bread is very soft and moist. You could even frost it with a cream cheese frosting to serve more like a cake.
I think these are soft enough to use as muffins, too.
NOTE: I used this recipe today following my diabetic modifications (below) and I also used fresh (cooked/cooled/mashed) pumpkin instead of canned. I baked them in oiled muffin tins and they came out great, just a lighter color due to the fresh pumpkin.
ETA:
I have tweeked this recipe (I am diabetic) with good results. The recipe substitutions are:
1 cup Splenda for Baking (make sure it's "FOR BAKING" or now called "Sugar Blend")
2 eggs
1 cup oil
I also added along with the cinnamon:
1 tsp ginger
1/4 tsp cloves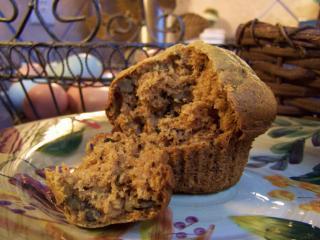 Last edited: