Bird of A Different Feather
11 Years
Dec 20, 2008
5,146
29
251
this is an older pic of mine some of you may have seen it before, but I am posting at the request of some of my newbie customers

this PVC pen was put together by me and my daughter, it takes about an hour once you have all of the material.
It's made with 1" heavy duty PVC, plastic fencing, a tarp & zip ties. The joints are glued with PVC glue.
the only tools needed were scissors for the fencing and a handy dandy pvc cutter that you can buy for about 12.00 (it works better on the heavy duty pvc than the lighter weight stuff)
I left the tarp on the unused pen this winter, and it is now the only part that needs to be replaced.
NO the pen is not predator proof.
Yes, I can move it easily by myself with one hand (chubby middle-aged housewife that I am) and yes it has to be anchored in big winds. I moved it daily, then twice daily near the end.
The pen is 10' X 15' and comfortably held 25 meaties from start to finish.
we have since whipped together variations of this whenever a pen is needed
also the white stuff all over the yard is from the cotton wood trees not the birds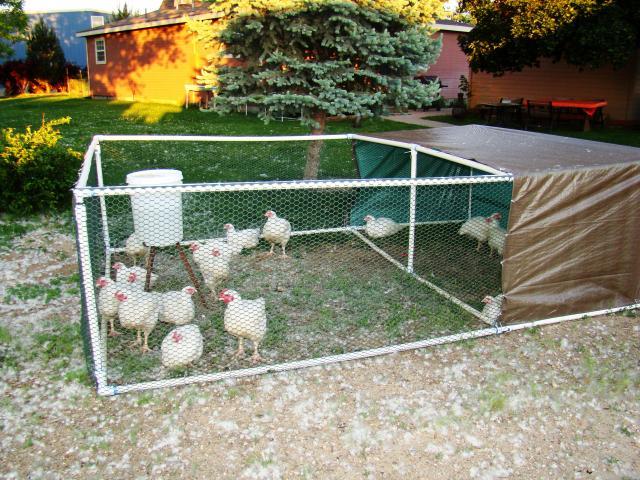 here are some poults in what we call the kinderagarten pen - it has no top or bottom and is used for short visits to the yard.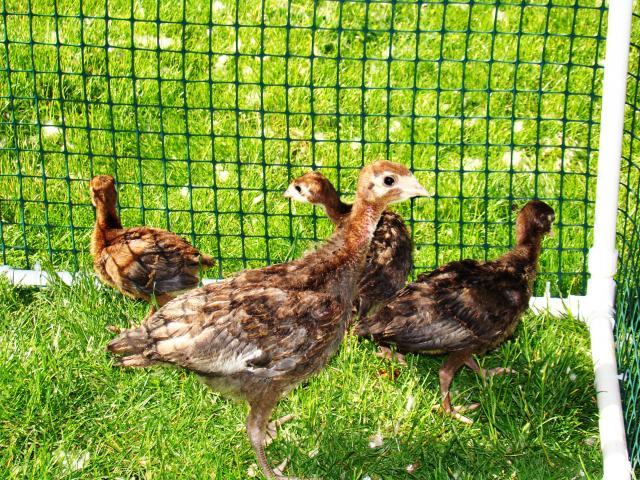 PVC & Zip Ties are your friends!!!