Jul 24, 2013
1,070
1,137
246
I have this cage available and want to keep a dozen or so Coturnix quail....
The full set up is 10ft long, 79cm deep and 86cm high. As you can see, the run area goes the full length of the run, including the covered/shaded area underneath the central coop. The coop will house the food, water and sand bath, to keep them dry. There are no side doors to the coop, just the two ramps. I would be backing both run areas with a solid board so as to give more protection from the prevailing wind.The whole thing will be kept inside a fully predator-proofed, walk in rabbit pen.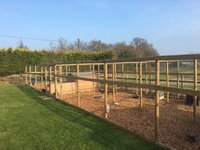 The rabbit pen currently has a wood chip floor but I feel this is possibly not long term suitable for the quail as it will quickly get covered with poop. I thought maybe a fine pea gravel might be a better option as it will then allow rain or hose water to wash the poop through. I had also considered sand so I could scoop it but was concerned that sand would remain wet and cold for too long and potentially harbour smells and clog up with poopy sediment.
Has anyone got any comments or suggestions that will work with THIS cage, in THESE circumstances (rather than suggesting alternative accommodation!)
Thanks in advance xx